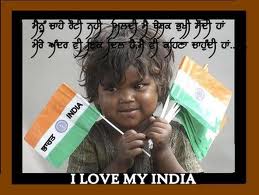 It has been over two months since we moved back to India. My passion for the cause of education led me to accept the position of an academic coordinator at a non-profit school. This school is located in a remote village in my native state of Andhra Pradesh in India. I started my new job on July 15. My primary responsibility is to help in enhancing the quality of education and contribute to the all-round development of the school. A few weeks later my wife joined me at the same school.
We live in a small town which is around five kilometers from the school. We rented a three bedroom apartment. We bought a two wheeler (Hero Honda!) and we both use it to navigate the dusty roads of our town and villages to go to our school. We leave at 8.45 a.m. and return around 6.30 p.m. We go to our school 6 days a week. On Sundays we are at the school, if needed, for a few hours. Going to work on Saturdays is something that I am not used to… but who said I am working? I am living my dream. When living a dream, the concept of work-life balance sounds like a lazy man's excuse!
The school we both work at is a boarding school that has 270 students on its roll. Nearly 200 of them live in the hostel and the rest come from the villages nearby. It is an English medium school with classes from grades 1 to 10. Our lives revolve around these 270 students from 5 year olds in grade 1 to teenagers in the higher classes.
There is not a single day that I am not reminded of my own school days. We celebrated our independence day on Aug 15 with flag hoisting and a cultural program. On September 5th, we celebrated the "Teacher's Day". One of the girls from ninth class dressed up exactly like Sobha and many thought they both looked like sisters. One of the tenth class boys pretended to teach classes like I do. Students contributed to a small fund using which gifts were bought for each of the teachers and hostel wardens. I am now living in a completely different world. It is a joy to work with the kids, to prepare them for the cultural programs, to play with them during the games class, to conduct quiz, elocution, essay writing and other literary activities and finally to teach their classes. Just prior to the Teacher's Day, on September 2nd, we had a VIP guest who was with us for a day long visit. In his honour the students and staff organized a small cultural programme. We stayed late at the school on many days to help the students in practicing a couple of dances and a drama with a social theme. That is our school life. My typical day at the school will be detailed in another post.
At home we are fairly well settled. We certainly needed an air conditioner in this hot and humid weather. We got that installed in our bedroom. We got some of the basics taken care of. We have two different maids that knock our door at 6 a.m., one for washing our clothes and the other for cleaning the entire house and for washing the dishes. Yep, we are going to have neither a dish washer nor a washing machine. The milk is delivered around 7 a.m. We get drinking water delivered to our home whenever we give them a buzz. Cooking gas is delivered in gas cylinders and that usually takes longer to deliver. However, we are still using our first gas cylinder! Our apartment complex, that can accommodate eight families, is equipped with an elevator and a generator that is operated whenever we have no electric power. Unlike in the big cities, availability of electric power in our small town depends entirely on the moods of the local electric officials, weather and a host of other factors over which ordinary mortals like us have no control whatsoever. Our internet life is managed by Tata Photon Plus card. The speeds at which the pages are loaded reminded me of the good old 14.4 kbps modems. So, youtube and facebook activities are curtailed for now. Living in India, that too in a small town, is a very different experience. I hope to write many articles on this topic.
We are getting used to our new lives. It took me several weeks to transition and to get adjusted to the new life. I had to stay away from two of my favorite pastimes, writing and reading. I am now getting back into the groove and hope to write more frequently. See you soon!