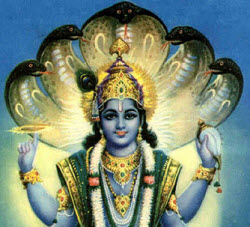 For many years I was part of viShNu sahasra naamaM chanting group in Cleveland, Ohio. Every Friday evening we used to gather at someone's house and chant viShNu sahasra naamaM along with a few other chants. It is usually followed by a sumptuous dinner and some times a satsang – a discussion on spiritual topics. I am aware of many other groups that do the same. These groups now exist in almost every town across India, the US and many other countries. It might be surprising that many of those who chant viShNu sahasra naamaM may not be aware of its origin and significance. I read Mahabharata when I was very young and therefore I instantly knew that viShNu sahasra naamaM was part of the anushasana parva and that Bheeshmacharya narrates it to King Yudhistir. This fact is not very commonly known.
It is only recently that I developed a greater interest in viShNu sahasra naamaM and its significance. One cursory glance at any of the number of books written on the topic will make you aware of the wealth of knowledge that surrounds the seemingly small topic. First there is Shankara Bhashyam, an eloquent commentary written by Adi Shankara, the quintessential hero of vedic revival in India. This commentary has several translations and is also the basis for many other commentaries written by others. Unfortunately there are hardly any commentaries in English language. There are a few books that provide meanings on the names but as such there are no major authoritative texts in English language. Available texts on this subject is another topic for another day. It now suffices to say that there is plenty of literature in the regional languages of India.
viShNu sahasra naamaM literally means 1000 names of Lord Vishnu. It is authored by sage Vyasa and is found in Anushasana Parva of the epic Mahabharata.  Each chapter in Mahabharat is called a parva. When chanting, it is customary to start with poorva peeTika, then chant the sahasranaama stotram or praise of Lord Vishnu with his thousand names, and finally end with uttara peeTika. Poorva peetika starts with a prayer to Lord Vishnu as the remover of obstacles. It is followed by a verse describing sage Vyasa's lineage . In this verse, Vyasa is described as the great grandson of Vashista, grandson of Shakti, son of Parasara and father of Shuka maharshi. It is an extraordinary lineage of great sages of immense knowledge and sacred powers. It is followed by another verse describing Vyasa as none other than Lord Vishnu himself. I offer my humble pranams to Vyasa with the invocation of these two verses:
vyasaM vasishTa naptAram ShaktE pautrama kalmasham|
paraSharAtmajaM vandE shukatAtaM tapOnidhim||
vyAsaya vishNu roopAya vyAsaroopaya vishNavE|
namO vai brahma nidhayE vaashisTaya namOnamaH||
In a series of articles that follow, I will write an introduction to viShNu sahasra naamaM and the backdrop against which it emanated. It will be followed by several posts that will include my own understanding of some of the names and their deeper significance. It is my experience that this life will acquire a whole new meaning simply by reflecting upon the names and their inner meaning. It is my fervent hope that these articles generate the necessary interest in our search for a meaning of our very existence. All that I write is what I gathered and understood from various texts that I have been reading. This would be an adventure for someone who is in the process of learning, but it has now become increasingly difficult for me to not let out the bursts of inspiration I received from such reading!