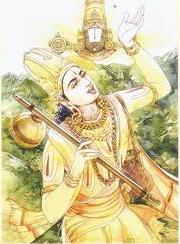 The mind of a composer can be understood only through his compositions. What he did and what he said verbally matter very little. An outburst of thought, especially when he goes through serious introspection, is conveyed to his beloved Lord in the language that only he and his God can understand; the language of love and devotion. Any other form of communication will fail to convey his true feelings. To truly understand his feelings one has to elevate oneself to that level of devotion and put oneself in his shoes to feel what he felt. By listening to his compositions we get a taste of that love between the composer and his God. At times such compositions take us into a trance and we nearly experience what the composer experienced as tears roll down our cheeks.

The royal patronage that Annamacharya received from various rulers came to an abrupt end when King Saluva Narasimharaya assumed the role of God and demanded that he sing in his praise. The miraculous way in which Annamacharya was rescued made the king realize that he is after all a human and that too much smaller than the great saint he tried to influence. Annamacharya warned the king not to insult the devotees of Lord Sri Hari. This event brought an end to the royal patronage that the repenting king could not prevent. Annamayya now realized that the only place where he can find peace and happiness is the abode of Lord Venkateswara. He returned to Tirumala and spent the rest of his life, along with his family members, in close proximity with the God he adored.
It was around this time, Chinnana wrote in Annamayya Jeevita Charitra, that Annamacharya and Purandaradasa met. Purandaradasa immediately acknowledged Annamacharya as an incarnation of Lord Venkateswara. Annamacharya in turn heard Purandaradasa sing and acknowledged him as an incarnation of Lord Vittala. Many scholars expressed disbelief about this incident and there is no mention of this meeting anywhere else. Nevertheless they found certain compositions of Purandaradasa that showed the enormous influence Annamacharya had on him. Assuming that the historians got their dates rights, this disbelief stems from the reasoning that Purandaradasa (1484-1564) was much younger than Annamacharya (1408-1503) for the two to meet and exchange ideas. It is well known fact that Purandaradasa did not turn his mind towards God until he was in his 30s. We should leave this debate for the scholars to sort out, but it is important for us to know that two of the greatest figures of Carnatic classical music world did meet and the latter composer was deeply influenced by the former.
Realization that servitude to other humans will not buy happiness is one of the signs of detachment that one experiences. Annamacharya's composition manujudai putti manujuni sevinchi asks why one should suffer from all misery by serving other mere mortals. He advises all to achieve bliss by worshiping Lord Venkateswara, the indweller of all beings. You may listen to this composition using the control below:

If the above control does not work, click here
His utter despair with this world is best explained in the composition ettikevvari pondu in which he uses harsh words to describe all the human associations with various facets of life. He says thus:  "to hell with friendship and with playing games; the things I once believed in. To hell with youth, good looks, vanity, power, love and smiles the things I once believed in. To hell with ego, pretense and patience, and money; their time is up. To hell with riches that make you blind, to hell with fame…" He says that he got himself rid of all the rest as he is now noticed by the God on the hill. In yet another composition enta verri he expresses a similar sentiment. He says that he must be crazy to dig up a whole mountain to catch a mouse, to wander the whole world doing all sorts of odd things for a mouthful of rice, to build house after house just to hide himself. He asks Lord Venkateswara – if I take you for my God, what will you say about how I lived? Such deep introspection expressed in these compositions is indeed a rarity. Unfortunately I am unable to find a tuned version of these compositions. These are perhaps too depressing for anyone to tune and sing!
In another composition naanati batuku naatakamu Annamacharya refers to life being nothing but a drama. There are only two truths, birth and death, everything else in between is a drama. This song is immortalized by MS Subbu Lakshmi. This song and Bhaja Govindam sound very similar in their philosophy and contents, both of them being rendered by MSS makes it impossible to not see the connection. You may listen to this composition using the control below:

If the above control does not work, click here
In spite of accomplishing so much Annamacharya still thought that his entire life was wasted in vain pursuits as indicated in his composition ayyo poye praayamu kaalamu. You may listen to this composition using the control below:

If the above control does not work, click here
As his life of dedication and devotion comes to an end, he dedicated all his compositions at the lotus feet of Lord Venkateswara. In the composition daachuko nee paadalaku he requested Lord Venkateswara to preserve all his compositions in His treasury as these are the flowers that are offered at His lotus feet. He says "Only one poem is enough to protect us, let the rest of them lie in Your treasury. Your powerful name is easy to obtain but worth a lot." He continues: "You stayed on my tongue and made me sing your praise. Who am I to sing the praise of the Lord of a thousand names? Out of mercy you bestowed me with the blessing to sing in your praise. I am not saying this out of pride, what I composed is not out of my free will(I am merely an instrument), please don't look for faults, O Lord Venkateswara, I am only a servant of Yours" This is the composition that sums up his humility. You may listen to this composition using the control below:

If the above control does not work, click here
In what is apparently one of the last few compositions of Annamacharya, antaryami alasiti solasiti, he tells his beloved Lord Venkateswara that he is now tired and can't wait for the Lord to take him in His refuge. Annamacharya left his mortal body to reach the abode of Lord Vishnu in Vaikunta on February 23, 1503, on phaalguna bahula dwadasi, the twelfth lunar day after the full moon. In honour of his father his son Peda Tirumalacharya composed the song dinamoo dwadasi nedu. This song invites Annamacharya who is now in the abode of Lord Venkateswara to visit him on this auspicious day. You may listen to this song using the control below:

If the above control does not work, click here
In the composition Nenokkada lekundite nee kripaku patramedi Annamacharya asks Lord Venkateswara what He would do with His kindness if he wasn't there. Annamacharya was too unkind to himself when he called himself the number one among all ignorant. He admonishes the Lord not to lose him as He would not find a better one in need of saving. He ends this composition by asking the Lord to think over – "by saving someone so low You will win praise all over the world… You get praise by saving me and because of you I get saved, we are right for each other." You may listen to this composition using the control below:

If the above control does not work, click here
The Lord and His devotee are indeed right for each other not for the reasons Annamacharya cited but because of their eternal relationship that cannot be counted merely on the number of compositions or the number of years of unbroken faith and devotion but by the unfathomable love the devotee has for his Lord. This relationship can be understood by only the God and His devotee and no one else.
All good things must come to an end. This series, albeit reluctantly, will conclude in the next post.