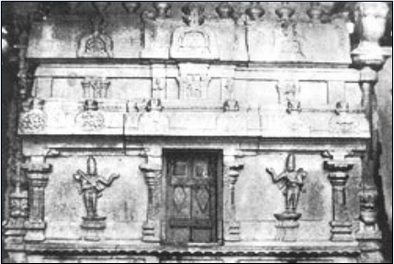 The offspring of a pandit rarely turns out to be another pandit. Greatest heroes in the history rarely produced one of their own kind. This is an unexplainable justice that nature imposes on all beings. In the case of Annamacharya, however, this justice was delayed by at least a couple of generations. Annamacharya's family starting with Himself and two generations down the line produced some of the best known literary figures. They may not have equaled Annamacharya in his fame and caliber, but they carved their own space in the history of Telugu literature. Many important literary works of this illustrious Tallapaka family came to light from the time the copper plates were discovered in the year 1922.

After leading a blessed life in Tirumala, Annamayya returned to Tallapaka. He was married to Timmakka and Akkalamma and started leading the life of a grihasthya. From this marriage he was blessed with two sons Peda Tirumalacharya and Narasinganna and two daughters Narasamma and Tirumalamma. Annamacharya's wife Timmakka is considered to be the first Telugu poetess owing to her work Subhadra Kalyanamu. This a collection of 1170 poems about the marriage of Arjuna and Subhadra of Mahabharat fame.
Annamacharya's tradition of composing sankeertanas on Lord Venkateswara is continued by only two of his descendants, his son Peda Tirumalacharya and his grandson Chinna Tirumalacharya. We do not hear much about anyone else, except Narasinganna and Chinnana. Narasinganna who was born to Timmakka is popularly known as Sankusala Nrisimha Kavi and is the author of Kavikarna Rasayanam. Tenali Ramakrishna of Vijayanagaram Empire fame, praises him in a poem. Chinnana was the fourth son of Peda Tirumalacharya. He is not known to have composed any sankeertanas, but it is because of him that we now have a complete biographical sketch of Annamacharya. It is said that he is one of the composers in the Tallapaka family, but we do not have any of his compositions available to us.
We will now take a short look at these two luminaries, Peda Tirumalacharya and Chinna Tirumalacharya, and their accomplishments.
Peda Tirumalacharya
Near the Sankeertana Bhandagaram in Tirumala, we see a carving of Annamacharya and his son Peda Tirumalacharya. The fact that Peda Tirumalacharya found a space right next to his illustrious father speaks volumes about his stature. He was a great devotee of Lord Venkateswara and composed thousands of songs on Him. Legend has it that Lord Venkateswara granted him darshan on several occasions.
Peda Tirumalacharya lived during the times of political turmoil in Vijayanagaram empire and lived through the grand rule of Sri Krishna Devaraya. There is no evidence that the two met. As evidenced by some of his compositions, he spurned offers from the rulers to visit and stay in their courts. At one point he got into a tiff with a ruler, whose name we do not know yet, who threw a sword at Peda Tirumalacharya and it turned into a garland that adorned him. This was mentioned in Chinnana's biography of Annamacharya as well as in a composition attributed to Peda Tirumalacharya. He went to Sri Rangam along with some of the copper plates and sang the compositions of Annamacharya in front of the deity there. Many copper plates were later unearthed from this temple.
Peda Tirumalacharya was friends with Achyuta Devaraya who was brother of Sri Krishna Devaraya. There is inscriptional evidence that Achyuta Devaraya gifted the villages of Poondi and Sangamakota to Peda Tirumalacharya and he in turn gave them back to Lord Venkateswara. Because of his love for Lord Venkateswara and his literary skills, he became a very influential person in Tirumala. He was credited with several important construction works in Tirumala. The list of activities undertaken by Peda Tirumalacharya is bewildering to say the least.
Like I mentioned in one of the previous posts, out of 29 books published by TTD on the compositions of the Tallapaka family, two books (numbers 15 and 17) are reserved exclusively for the compositions of Peda Tirumalacharya. We find 463 compositions in book 15 and 544 in book 17. There are no distinctive marks of identification, at least those that I can easily identify, that can distinguish an Annamacharya composition with a composition of Peda Tirumalacharya.
The most famous compositions of Peda Tirumalacharya often attributed to Annamacharya is the song Govindaasrita Gokula Brunda as song 260 in book 15. You may listen to this song using the control below:

If the above control does not work, click here
Here is another composition, Vetti Valapu Jallaklu Vishnu Moorthi.

If the above control does not work, click here
Another famous composition Vandeham Jagadvallabham is also composed by Peda Tirumalacharya.
In addition to thousands of compositions, Peda Tirumalacharya wrote several books including a Telugu translation of Bhagavad-Gita. An interesting work consisting of 120 poems is the Chakravaaka Manjari in which each line in each poem begins with the last word of the previous line, but the words do not necessarily mean the same thing. Such is the talent of Peda Tirumalacharya, a very worthy son of Annamacharya.
Chinna Tirumalacharya
Chinna Tirumalacharya, the eldest son of Peda Tirumalacharya, followed the footsteps of his father and grandfather in composing songs in praise of Lord Venkateswara and dedicating an entire life in His service. He is often confused with Chinnana who is the fourth son. He reconstructed the Kalyana Venkateswara Temple and installed the statues of the Alwars, Bhashyakaras and various others including that of Annamacharya. The statue of Annamacharya, however, is not there anymore.
Chinna Tirumalacharya authored Sankeertana Lakshanamu which is a translation of Annamacharya's Sanskrit treatise on Sankeertanas. The original work is not available to us but this translation is available in its entirety. He is also called "ashtha baashaa kavi chakravarti" for his composition of a hymn in praise of Lord of the temple hills in eight languagues. He composed several songs on Lord Venkateswara. Among the 29 books released by TTD book number 10 is reserved is for his compositions.
One of the compositions of Chinna Tirumalacharya, ra ra chinnana, is immortalized by the golden voice of M.S. Subbulakshmi and can he heard here. Another composition rachha kekketivi pandarangi vittala is attributed to Chinna Tirumalacharya. You may listen to this composition using the link below:

If the above control does not work, click here
It is hard to find tuned compositions of Peda Tirumalacharya and Chinna Tirumalacharya. We are lucky to find a few of them. Both of them had great respect for Annamacharya and treated him as their own guru. They did not hesitate to refer to him in his compositions. Together the entire Tallapaka family dedicated their lives in service of and in praise of Lord Venkateswara. We are yet to find such a devotional family in the history of the bhakti movement of India.
Annamacharya spent final years of his life in Tirumala and those years of detachment and eagerness to merge with the Lord will be our topic of discussion in the next post.