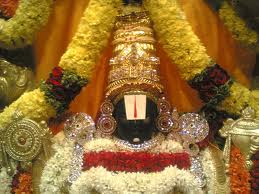 Annamayya's second day in Tirumala was as eventful as his first day when he had the darshan of Lord Venkateswara. He visited Kumaaradhara, amara, aakasa ganga, jarahara, paapavinaasanam and paandava theertham. These are the sacred waters with a history behind each one of them. He took a holy bath in each one of them and headed to have a darshan of the Lord for the second day in a row. But by the time he arrived, the temple doors were closed.

In utter desperation Annamayya sang the poems from Venkateswara Satakam. Miraculously the chains of the temple door were broken and the doors opened for Annamayya. The priests were shocked at the event and approached Annamayya with great respect and took him to the main deity of Lord Venkateswara. Annamayya continued to sing from the Venkateswara Satakam. At that very instant, the Lord's pearl necklace separated from Him and fell on the floor. This was Lord's way of acknowledging the presence of Annamacharya and His appreciation of the Satakam. Whenever a king is very happy with a poet or with someone who delivers good news, the king gives away his necklace as a reward. Lord Venkateswara is the King of the kings and the God of the gods, he rewarded His devotee in His own way.
From Annamayya to Annamacharya
Ghana Vishnu was a devotee of Lord Venkateswara. He was a Vaishnavite and was living in Tirumala. One day Lord Venkateswara appeared in his dream and told him about a dark complexioned boy named Annamayya who can be found singing His glory. Lord Venkateswara instructed Ghana Vishnu to take the boy into the fold of Vaishnavism. To help with the ritual, He gave him the metal marks of Shanka and Chakra. Ghana Vishnu found Annamayya at the Yaga Sala just the way the Lord had described; Annamayya was completely immersed in singing a composition on Lord Venkateswara. Ghana Vishnu approached Annamayya and told him about the dream he had. Annamayya happily agreed to convert. There were no second thoughts. The ritual of conversion was conducted and from the time of that conversion Annamayya came to be known as Annamacharya. His entire lineage since then retained Vaishnavism as their form of life and philosophy. Unfortunately we know very little about Ghana Vishnu.
Annamayya decided to stay in Tirumala. It was his new home away from a home that he did not miss much.
Living a Dream
Annamacharaya was now living his dream. He participated in many of the festivals organized in Tirumala. It is a place where there is no shortage of festivals or important occasions. According to one estimate as many as 450 festivals are celebrated each year. Annamacharya celebrated his association with the temple complex and his love for Lord Venkateswara in numerous compositions. There is clear excitement in the tone and tenor of his compositions when he describes the glory of the Lord of seven hills.
Suprabhata Seva
The day of Lord Venkateswara starts off with the Suprabhata Seva. The God is woken up formally during this seva to fulfill his divine obligations to take care of the needs of the world. The traditional suprabhatam dates back to the times of Lord Rama. Sage Viswamitra took Lord Rama and his brother Lakshmana to the forest to get rid of the demons that were disturbing his penance. On one of the occasions he woke up Rama with the song kausalya suprajarama poorva sandhya pravartate. A version of this song is still in use in Tirumala to wake up Lord Venkateswara. Annamacharya wrote several compositions of his own to wake up his Lord. Vinnapalu vinavale vinta vintalu is one such composition that attempts to wake up Lord Venkateswara so that he may listen to different strange appeals petitioned by His devotees. Here Annamacharya imagined that the Lord is sleeping on a bed covered with a mosquito net made out of the serpentine hoods! Of course Lord Venkateswara is none other than Lord Vishnu who sleeps on the serpentine bed made out of aadisesha. You may listen to this composition using the control below.

If the above control does not work, click here
Kalyanostavam
Kalyanostavam is a marriage ceremony performed between Lord Venkateswara and His consort Alimelumanga. These days His marriage is performed on every day of the week throughout the year. During Annamacharya times, it was definitely less frequent but more elaborate. I deduced this from two songs he composed. The first one is tiruveedhula merisi devadevudu. This song describes the marriage ceremony as an elaborate event spreading over 10 days. He imagines Lord Venkateswara in various forms over the 9 days leading towards the wedding on the tenth day. You may listen to this song by using the control below:

If the above control does not work, click here
In another song nela moodu sobhanalu neeku natanike tagunu he teases Lord Venkateswara and Alimelumanga as the only couple that celebrate bridal night three times a month! This song shows several reasons why they are made for each other. While the previous song is dedicated exclusively to Lord Venkateswara, this composition addresses His consort Alimelumanga. You may listen to this song by using the control below:

If the above control does not work, click here
Annamacharya's love for the divine couple is especially visible when he describes the kalyanotsavam event. When the bride, Alimelumanga, is getting ready for the wedding he describes it with the song pidikita talambraala pendli kuturu. As the Lord approaches the marriage hall he goes into frenzy with the composition veedhula veedhula vibhudege. When there are so many songs written by Annamacharya and many of them tuned and sung by famous singers, it is hard to pick just one or two song. If I am left with no choice but pick just one more for you to listen and enjoy, this would be one last one:

If the above control does not work, click here
Every Friday, the main deity is given a ceremonial bath. This ceremonial bath is called Thiru Manjana. This is a very elaborate process that makes use of camphor, saffron, turmeric paste and civet oil. The entire process is described in minute details in the composition kanti sukravaramu gadiyaledinta. This composition is at once very melodious as well as informative. You may listen to this song by using the control below:

If the above control does not work, click here
Mangalam
When it is the end of the day, Lord Venkateswara is offered mangalam, one last offering for the day. Annamayya composed several mangalam compositions, the most famous of which is chittaja guruda neeku sree mangalam. Jaya managalam neeku sarveswara is another such composition. You may listen to this song by using the control below:

If the above control does not work, click here
A mangalam is followed by the pavalimpu seva which involves resting Lord Venkateswara and slowly letting him sleep by singing a lullaby. From the times of Annamacharya to this day, a descendant of Annamacharya is present and one of his compositions, especially jo achutananda jo jo mukunda, is sung to Lord Venkateswara during the pavalimpu seva. Even though the composer was forgotten for many centuries, the tradition continued. In fact the composition jo achutananda jo jo mukunda got so deeply embedded in our culture, many mothers for over 500 years sang this lullaby to put their babies to sleep without knowing who the composer was. You may listen to this song by using the control below:

If the above control does not work, click here
Annamacharya composed many songs describing various festivals celebrated on the Tirumala Hills during his stay in Tirumala. He was living a dream. But all good things must come to an end. How his dream came to an abrupt end is a story that must wait until we get to the next post!