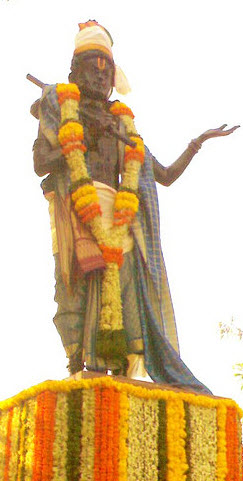 There is something about Annamacharya's life that caught my imagination starting from the year 2007, and ever since I am completely hooked. This concluding article, I am certain, is not the last article that I will ever write about him. Initially I planned many more articles that would have included topics on Alimelumanga, Sanskrit compositions, literary works, social compositions, philosophical compositions, comparative studies and so on. This would have been an unending series if not for this reluctant conclusion.
It has been a long journey. To tread this difficult path of writing this 18 part series on Annamacharya, I realize now, is not an easy one. Sometimes it was very difficult to verify the facts before I put them in the article. But sometimes it was a sheer joy to write about my favorite composer. At the end of the day, the journey is worth it and I would do it all over again even if knew about the difficulties that I would encounter. What I am able to accomplish with this series is way more satisfying than the small booklet that I published in the year 2007. I hope and pray that you found these articles useful. I shall close this series with a few details on the literary works on Annamacharya that I found very useful as well as some closing remarks.
Literary Works on Annamacharya
In the year 1978, TTD started the Annamacharya Project with the aim to propagate the tatwa and mahatwa of Lord Venkateswara by popularizing the compositions of Annamacharya.  Since then it has been leading the research efforts. Over a ten year period this project published 14000 compositions in 29 volumes. In addition to releasing a number of audio cassettes of recording of Annamacharya keertanas, they published several works of Tallapaka family including Sankeertana Lakshanamu, Annamacharya Jeevita Charitra and Subhadra Kalyanamu the last one written by Timmakka. Annamacharya Jeevita Charitra written by Veturi Prabhakara Sastry was one of my main sources for tracking the history of Annamacharya. This is the most exhaustive work ever done on Annamacharya and is quoted by every book written on Annamacharya. There is a criticism that TTD is not catching up with the technological advancements in spite of all the resources at its disposal. Many of the TTD publications are either not in print or not easily accessible. TTD can and certainly should do more!
There are several books available on Annamacharya in both English and Telugu. Many of them are not easily accessible. Only a few which are easily available include Flowers at His Feet by Pappu Venugopala Rao, Songs of Three Great South Indian Saints by William J. Jackson, God on the Hill – Temple Poems from Tirupati translated by Velcheru Narayana Rao and David Shulman. These books have been of tremendous use to me in writing these articles. The most recent one is Flowers at His Feet. This book will serve as one of the most valuable works on Annamacharya in the recent times. Balantrapu Rajanikanta Rao is another noted author who wrote the book andhra vaaggeyakaara charitramu in two volumes. The amount of research done by this author is truly amazing and it is no surprise that this two volume publication won the Central Sahitya Academy Award. This book contains the history, literary and musical works of all Telugu composers from Tallapaka poets to modern composers like Managalampalli Balamuralikrishna. This book is a joy to read and provided me with a lot of information in putting together these articles.
In the internet world there are several sites and blogs that are dedicated to Annamacharya and his works. The Telugu wikisource has a short biography of Annamacharya and also lyrics in Telugu of several hundred Annamacharya compositions. Here is another site that is a good source of lyrics and audio versions of his compositions. As of this writing there are lyrics, notes and commentary for nearly 750 songs on this site. The advent of the online file sharing helped in spreading the audio recordings. As soon as a composition is available in audio it usually appears on one of the many online file sharing sites!
With growing interest in Annamacharya and his life, there are sure to be many more books that will bring him closer to the people than ever before. For someone who had such a powerful influence on the richest temple on planet – but was mysteriously forgotten for many centuries – there is bound to be a fresh wave of enthusiasm in every generation in the foreseeable future.
A Note about My Song Selections
With over 14000 compositions available, it is impossible to select a few of them and tag them as the "popular" ones. This approach is sure to invite resentment from people who can easily protest citing one of their own favorites which is most deservingly popular. Keeping in mind there can be no right answer to the question "what are some of the most popular compositions of Annamacharya?", throughout this series I have tried to provide a "representative" sample for a style that was discussed. The term representative is very relative.
Thank You!
The life of Annamacharya is shrouded in mystery. Very little was known until recently. The fact that there are not many historical evidences and depressing disagreements among scholars does not make matters easy for someone trying to know him. All the information provided in this series of posts is gleaned from various sources that may or may not be accurate. It is possible that you may not find what you expected to see. Such a lapse is either because of my ignorance or an indiscretion on my part in judging about the worthiness of something being in here. Every effort is made to verify the accuracy of the statements made here – but it is only the Lord above us who knows the truth. I consider it a privilege that you have perused through these posts. Your intellectual acumen is sure to find some mistakes and even some statements that may not be to your taste. I hope and pray that you will carry a heart big enough to forgive me on that count. I am your fellow traveler who is on a journey in search of the man behind this vast collection of hymns in praise of Lord Venkateswara and whose indefatigable devotion produced unparalleled collection ever attributed to one individual. Thank you for reading.
Salutations to Annamacharya
At this juncture, it is befitting to offer our humble pranams to the greatest devotee of Lord Venkateswara through this verse that is rendered during every event that is organized in honour of Annamacharya. I must admit that I am having a very hard time finding the source of this verse.
Srimat tvadiya charitamrita mannayarya
Pitvapi naiva suhita manuja bhaveyuh
Tvam Venkatachalapateriva bhaktisaram
Sri Tallapaka Gurudeva namo namaste
O Noble Annamacharya,
even after drinking deep the nectar of thy pious life,
Men will not be happy and content –
For like Lord Venkateswara,
Thou art verily the essence of
inexhaustible human devotion
To Thee, O Supreme master of Tallapaka,
we offer our most reverential salutations.
You may listen to this verse using the control below:

If the above control does not work, click here