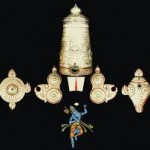 The family tree of Annamacharya starts with the name of Narayanayya of Tallapaka village in Kadapa district. His son's name is Vittalayya. The real story of Annamacharya starts with the son of Vittalayya who is named after his grandfather Narayanayya. In India, especially in the southern parts, it is very common even to this day to name children after their grandparents.

Goddess Chintalamma Rescues Narayanayya
Narayanayya was very poor at studies. Vittalayya thought that it was his failure in the upbringing and transferred the responsibility of educating Narayanayya to his relatives in Vutukuru, a nearby village. Despite several efforts by the teachers at the new school, Narayanayya showed little interest in education. He was delivered various forms of punishments. Poor Narayanayya was left with few options and decided to end his life. He reached a temple built for Chintalamma, the goddess of the Vutukuru village. With the hope of ending his life he put his hand in an anthill that is supposed to house a deadly snake. At that very moment, Chintalamma appeared in physical form in front of him and asked him as to why he wished to end his life. The boy explained that he was very tired of being punished by his teachers. The goddess showed immense kindness to the boy and told him that he will get better at studies if he prayed to Chennakesava of Tallapaka village. She announced her prediction to the boy that a great devotee of Lord Vishnu will be born in the third generation. With the blessings of Chintalamma and with help from his prayers to Chennakesava, Narayanayya acquired great knowledge and became popular as someone who knew everything.
Avatar of Nandaka
Narayana Suri was the son of Narayanayya. He was a renowned poet. He was married to Lakkamamba from Madupuri village of Kadapa district. They did not have any children despite being married for several years. They prayed to Lord Venkateswara and visited Tirupati to seek the blessings of the Lord. That night, after they returned from the temple, Lord Venkateswara appeared in their dream and presented them with Nandaka, His own sword. This was a sign that the sword of the Lord will reincarnate as a son in their family. Thus, in the Vaisakha month of Krodhi year under the auspicious Visakha star, a boy was born to the exuberant parents of Narayana Suri and Lakkamamba. According to the English calendar, this corresponds to, as many scholars now agree, May 9, 1408. He was named Annamayya.
The name Annam appears in the 105th verse of Vishnu Sahasra Naamam. Chinnana in one of his works mentioned that the name Annamayya is derived from this name of Lord Vishnu. Annam Brahmeti Vyajanaat – Annam or nourishment is the source of all the living – is a famous maxim from the Taittiriya Upanishad. Some researchers believe that the name Annamayya is borrowed from this maxim.
The field of music and culture was ready for the arrival of Annamayya.
Our Cultural Landscape
By the time Annamayya was born, the three Hindu philosophies of life, Dvaita, Advaita and ViShiShTaadvaita were deep rooted in the Hindu psyche. Dvaita or the philosophy of dualism, proposed by Madhvacharya, says that God is separate from His creation. Advaita or the philosophy of non-dualism, proposed by Shankaracharya, proclaims that God and His creation are not separate but one and the same and that it is an illusion to consider them as two separate entities. Finally viShiShTaadvaita or the philosophy of qualified non-dualism, proposed by Ramanujacharya, claims that God and His creation are one and the same, but they are separated from each other at the time of creation and they merge into each other when the process of creation is reversed. It is this last one, ViShiShTaadvaita, which tremendously influenced the life in Tirumala temple. Although all the three saints visited Tirumala, it was the visit of Ramanujacharya that had the lasting impact on the temple life. He initiated several programs and successfully converted Tirupati into the most important spiritual centers of Vaishnava tradition. This was about 300 years before Annamayya arrived on the scene. The literary world was just waiting for Annamayya to embrace Vaishnavism, the religion of the proponents of viShiShTaadvaita. Many of his compositions highlight this Vaishnava thought and reason.
Jayadeva, a Sanskrit poet, who was born in Orissa around 1200 AD, was an established name throughout India. He was a devotee of Lord Krishna and composed the most famous Gita Govinda. It consists of 12 chapters with 24 divisions with each division consisting of couplets in groups of 8 called Ashtapadis. The name of Jayadeva is the foremost of the names mentioned in the revival of Bhakti movement in India. Annamayya was highly influenced by his poetry and he mentioned his name in one of his works.
Krishnamayya, also known as Sri Krishnamacharya, was a renowned devotee and poet belonging to the 13th century. It was believed that he composed over four hundred thousand vachanas; only 75 survived to this day. His Simhagiri Vachanas are still recited in Simhachalam in Vizag. His works were perhaps available to Annamayya. He wrote poetry in simple, non-metrical language that was free from any ornamentation or high vocabulary that distracts the attention from the essential philosophy of his writings. Krishnamayya was also a converted Vaishnavite. It was without any doubt that Annamacharya was highly influenced by Krishnamacharya as his name was also mentioned in one of his works.
The period of Vijayanagaram Empire between 1336 and 1565 is known as Prabandha Period that produced some of the best known works in Telugu Literature. Prabandha is a variety of Telugu poetry that is mainly a narrative or a continued discourse. One of the popular forms of Sringara rasa is about love between a man and a woman. This form dominated most of these works. This Prabandha literature is perhaps a big source of inspiration behind his Sringara compositions. Srinatha, considered the Emperor of poets, and Bammera Potana, a saint poet who translated Bhagavatam to Telugu language, were contemporaries of Annamacharya. He lived through a golden period of Telugu literature that produced monumental works; their influence on him cannot be ignored.
That was the setting that welcomed Annamacharya to this world! He got caught in this wave of literary and bhakti revival. He simply added the strength and power to carry the wave to several generations to come.
If we were to believe Chinnana, the biographer of Annamacharya, Annamayya showed signs of his devotion for Lord Vishnu from a very early age. That story should wait for the next post!