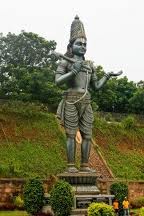 To truly understand the heart and soul of a poet one must understand the circumstances that created the poet, the surroundings around which he grew up, the family that raised him, the people and the incidents that deeply influenced him and where possible the turning point that caused the light to fire in him to create poetry. To understand Annamacharya the best place to start would be with his ancestral roots. Before he adopted Vaishnavism as his religion he was a Nandavarika niyogi Brahmin. It is believed Nandavarika Brahmins migrated from Benares in northern India to Kurnool district in Andhra Pradesh in southern India. Research into the regional literature and folklore gave us a wonderful story on the origins of these Nandavarika Brahmins. This story and the regional customs of the time should help us understand the background of his compositions.
Story of the Nandavarika Brahmins
Long ago, some say about 4000 years ago, there was a king by name Nanda. He was the ruler of Nandavaram, a town in Kurnool district of Andhra Pradesh. He had a desire to take bath in the holy Ganges every day. This desire was fulfilled when Lord Dattatreya appeared in his dream and gifted him a pair of sandals that can take him wherever he wanted to go. Using these he was able go to Benares in the northern India via an invisible tunnel, bathe there in the holy Ganges, offer prayers to various deities in the town and return the same morning. One day his wife discovered this and demanded that she must be taken with him. He took her to Benares but on the way back, the wife got stuck in Benares for various incomprehensible reasons. The king sought help of some local Brahmins and in return for their favors he promised to help them in the future if a need arose.  This happened in front of the Goddess Chamundeswari, at the Chamundeswari Ghat. With the help of the Brahmins the king and his wife returned to Nandavaram. Several years later when famine struck Benares, these Brahmins visited the king's assembly and asked for his help. The king's ministers asked the Brahmins to produce someone who can bear witness to the king's promise.  A few of these Brahmins returned to Benares and requested Goddess Chamundeswari to bear witness. She agreed to help but on one condition – she would follow them to Nandavaram provided they will not look back to check if she is following them. The Brahmins fulfilled the condition successfully. She reminded the king of the promise made to the Brahmins. The repenting king helped 500 of these Brahmins out of their poverty. The goddess stayed back with them in Nandavaram where a beautiful temple is built for her. She was later referred to as Chaudeswari Devi. Because these Brahmins were patronized by king Nanda of Nandavaram, they were called Nandavarika Brahmins. A slightly different and full version of this story is available here.
Two Curses
At this point, the story takes an interesting turn. One of the Brahmins who moved to Nandavaram belonged to a different sub-sect than the rest. None of the Brahmins were willing to get his daughter married to any of their sons. This lonely Brahmin cursed the Nandavarika Brahmins with permanent amnesia and committed suicide. The impact of this curse is not known but might explain, according to some scholars, why the Nandavarika Brahmins do not remember their true roots. Does this explain why Annamacharya was forgotten by generations that succeeded him? I am not sure whether to believe these stories in their entirety, but without a doubt they carry a certain weight both in the regional literature as well in the lives across the region.
Unhappy at the death of a Brahmin, Goddess Chamundeswari too cursed them to live by worldly jobs. She commanded them to be priests of her worshippers, the meat eating Togata weavers.  Togata is a community of weavers, who worship Chaudeswari Devi to this day in the states of Andhra Pradesh, Karnataka and Maharashtra. Nandavarika Brahmins continued to worship Chaudeswari Devi and they continued to have a close connection with the Togata weavers.
In one of his compositions, Annamacharya refers to the profession of weaving: verrulAla meeku vEDuka galitEnu arru vaMchi  taDukallaMga rAdA?
You can hear the composition here. This is one of those rare compositions in which he advices those who copy his compositions to consider the alternative of weaving baskets (taDuka allaMga) instead! He is unusually very angry and says copying his compositions is same as collecting the betel leaves he spit out, mixing it with camphor and chewing it again. Such copied hymns, he admonishes, do not please the Almighty. God, he says, knows and deserves better!
Life in Tallapaka
A section of these Nandavarika Brahmins settled in Tallapaka village of Rajampet Mandal of Kadapa district. Annamacharya is a descendant of these Nandavarika Brahmins. The role of goddesses in the lives of Tallapaka Nandavarika Brahmins continued to the days of Annamacharya. In those days, just as these days, offering meat to the goddess in the temples was a common practice. This and several other cult practices are considered tamasic(or dark) in Hindu literature. Ancestors of Annamacharya may have participated in such dark cult practices. Scholars make a reference to a composition of Chinna Tirumalacharya, the grandson of Annamacharya. In this composition, 'etti hitOpadeSakuDu eTuvanTi dayaaluvu',  his grandson praises Annamacharya for transforming them in ending tamasic practices and starting saattvik(pure) practices. The words indicating the transformation appear in the first stanza of this song – 'pacchi taamasula mammu parama saatvikulagaa iccaTanE chesinaadu yenta chitramu'. With Annamacharya adopting Vaishnavism  as his new religion, he acted as the unbreachable wall that ended all cult practices from flowing into the future generations. The philosophy in his compositions encourages man to rise above superstition and adopt a path of unflinching devotion towards Lord Venkateswara.
Chinnana, not to be confused with Chinna Tirumalacharya, is another grandson and the only biographer of Annamacharya. In this biography, the story of Annamacharya begins with his grandfather who was rescued by yet another goddess. That story will continue in the next post.