Annamacharya instituted and created endowments to perform several activities in the Tirumala temple. He initiated the pada kavita syle of compositions. This style was adopted by several other composers. It is unbelievable that such a towering figure was completely forgotten for over four centuries. Although he was forgotten, the impact of his life on the temples of Tirupati continued uninterrupted to this day. It is only recently that he became a household name again. Here are some key events that helped in restoring the legacy of a legend. As you read the rest of the article, please remember that no one knew how to sing these songs as the copper plates contained only the raga and not the tala. It was upto the musicians to figure out how to tune these songs.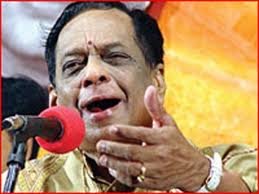 Once TTD got the possession of the copper plates, it entrusted the responsibility of dealing with them into the able hands of Veturi Prabhakara Sastry and his team of scholars. It was around 1950s that Veturi approached Mangalampalli Balamuralikrishna with a selected set of compositions of Annamacharya and requested him to set them to tune. Balamuralikrishna was by then a renowned vocalist. He tuned about ten songs and sang them on Bhaktiranjani, an All India Radio program. These songs were an instant hit and were made into an LP – a gramophone recording format of yester years. For the next fifty years Balamuralikrishna continued to set tunes for several Annamacharya compositions. This is one of the turning points that brought back Annamacharya into the homes of millions. When one thinks of Annamayya and Balamuralikrishna it is hard to not think of the great kritis like naarayanate namo namo and hari rasama vihari. The following composition, to which he set the tune, is perhaps the best example of the most inimitable style of Balamuralikrishna.


If the above control does not work, click here
Annamacharya Project was started in 1978. PVRK Prasad, then the executive officer of the TTD invited Kamisetty Srinivasulu to his office and announced his desire to have MS Subbulakshmi sing and popularize the compositions of Annamacharya. By then MS Subbulakshmi was already a major force in the Carnatic circles. Kamisetty Srinivasulu served as the first director of the Annamacharya Project. He was also a direct disciple of Rallapalli Ananta Krishna Sharma. Equipped with an official position, he played a key role in popularizing the compositions of Annamacharya across the entire nation and beyond its borders. He collected some songs that were already tuned by various famous musicians such as Nedunuri Krishnamurthy and Kadainallor Venkataraman. When he approached MS Subbu Lakshmi, one of the greatest singers of our generation, she asked him if he can sing one sample composition of Annamacharya. She may not have heard of Annamacharya and his compositions until then. He expressed his inability to sing on his own. He managed to play a previously recorded version of 'naanati batuku naatakamu' . This song was set to tune by Nedunuri. MS fell in love with the composition and agreed to sing all the songs. MS can neither understand nor speak Telugu. That was not a problem. She effortlessly sang songs from many languages with great ease and perfect pronunciation. After much work and preparation the songs were recorded and released under the HMV banner with the title 'Sri Venkateswara(Balaji) Pancha Ratna Mala'. It was decided that the first LP record will be released in Chennai and Puttaparti simultaneously. In Puttaparti Bhagawan Sri Sathya Sai Baba released the first LP on her birthday. Both Kamisetty Srinivasulu and MS were present on the occasion. In His divine presence she rendered 'enta maatramuna' among many other compositions to which Bhagawan Sri Sathya Sai Baba listened very intently. These LPs were an instant hit. A very charitable MS offered to surrender the royalty and all earnings on the LPs to Lord Venkateswara of Tirumala. This episode of the late 70s and early 80s is indeed a defining moment along the path to bring home the forgotten legend and saint Annamacharya. The following Annamacharya composition is MS's most recognized one. Not many people tried recording this song in their own voice again.


If the above control does not work, click here
A number of scholars and musicians continued to work on setting tunes for numerous compositions of Annamacharya. These include Rallapalli Ananthakrishna Sharma, Sandhyavandanam Srinivasa Rao, Kadainallor Venkataraman, Sripada Pinakapani, Nedunuri Krishnamurthy, Malladi Suribabu, Manchala Jagannadha Rao and Garimella Balakrishna Prasad in addition to Veturi Prabhakara Sastry himself. Several of Annamacharya compositions are immortalized by the golden voice of MS Subbulakshmi. Among the more recent names are Sobharaju, Vedavati Prabhakar, Malladi Brothers and Nitya Santoshini who continue to sing and popularize the timeless treasures of Annamacharya Kritis.
On May 10 2009, a record breaking mass of 160,000 people assembled at the parade grounds in Secunderabad, India, to sing in unison the famous saptagiri sankeertanas of Annamacharya. It was entered into the Guiness book of world records. Every year many major cities across the world celebrate a music festival in the name of Annamacharya. Tallapaka, the village in which Annamacharya was born, organizes special events on his birth and death anniversaries. K. Viswanath, an eminent director of Telugu movies, included many of Annamacharya compositions in his movies. All India Radio and Doordarshan in India regularly telecast programs on Annamacharya. There are not many dance teams that cannot or do not perform dance programs to the tunes of Annamacharya keertanas. Annamacharya's compositions have this irresistible attraction. There is no field or groups of people who are yet to be touched by the genius of his works.
His compositions, in his age, were created with the aim of bringing the common man closer to God. If only he was discovered a few hundred years earlier or if there was an unbroken lineage of his disciples, the entire landscape of carnatic music would have been very different. In bhajan style of singing, music is rich not because of its technical depth but because of the way it stirs the soul of a commoner. Annamacharya is considered to be the father of such a style of music. This, in my opinion, the single most reason why his compositions are now so popular and so within the reach of everyone. There is a big surge in the interest in Annamacharya both from eminent scholars as well as ordinary men and women. His music and his name will now remain forever etched in the history of mankind.