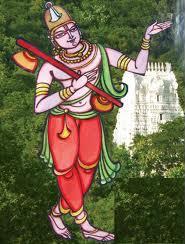 At a very young age Annamayya showed all signs of being a great devotee of Lord Venkateswara. As a toddler he ate food or drank milk only after he was told that it was the prasadam of Lord Venkateswara. He would not sleep until his mother sang lullabies on the Lord of the Seven Hills. Annamayya was born with the blessings of Lord Venkateswara; it would be natural for the parents to constantly talk of the Lord and His inimitable divinity.
When Annamayya was just five years old, his father Narayana Suri performed his Upanayanam or thread ceremony, and got him ready for real education. Annamayya did not have any problems with that. He was able to learn many things with ease and dedication. He developed great love for music and devotional compositions. He surprised many with his ability to sing very complicated songs and even composed some of his own songs on Lord Venkateswara. He was able to comprehend and talk about profound philosophies. In other words, the boy was maturing gracefully to take up the divine task that was to be the sole purpose of his life. Years rolled by. He turned 16.  All his learning and scholarship over the years needed just one turning point that would redefine him as a person that the world was waiting for.
Before we jump into that defining moment of his life, let's pause for a few moments and reflect on how we know about Annamayya and his life.
How do we know?
What we know about Annamacharya is largely from the biography written by Chinnana, his grandson. This biography was not found on the copper plates.  Tallapaka Suryanarayanayya, one of the descendants of Annamacharya, had a copy of this biography in palm leaf manuscripts. He copied all the contents to paper before the original was lost to the elements of the nature. That was in the year 1940; later he gave this copy to a library. This is the only source we have inherited about the life of Annamacharya. We know very little about Tallapaka Suryanarayanayya. The paper version of the biography was full of grammatical and spelling mistakes. Veturi Prabhakara Sastry worked tirelessly on comparing this copy with various other sources. He decoded the contents and brought out the very first printed format of the biography of Annamacharya. This book, in Telugu, was first printed in the year 1949. It was later revised in 1978 by Gauripeddi Ramasubba Sarma. This is perhaps the only authentic source of our knowledge about the life of Annamacharya.
It is very rare that a biography is written by one's own family members. Tallapaka Annamacharya richly deserved this unique privilege. Chinnana was a great poet himself and had several other works to his credit. He had the capability and also possessed first hand information to write the biography of the most prominent figure in the society who also happens to be his grandfather. The original text titled Sri Annamacharya Charitramu is in dwipada format and runs into 50 pages of the size of a standard book. It starts with an introduction and ends in words of dedication to the Lord Venkateswara who ruled over the life of Annamacharya.
Start of a Journey
At home Annamayya gladly accomplished whatever task was assigned to him. He was the most favorite among the family members. One day he was sent to the forest to cut grass for the cows. He ventured into the forest with his sickle. He started cutting grass even as he was engrossed in singing the glory of Lord Venkateswara. It was perhaps due to a temporary loss of concentration while singing; he cut his finger and blood oozed out of it. In severe pain he shouted out the Lords name – "Hari Sri Hari". That pain transformed into anguish and frustration. What cannot be cured must be endured. He endured the pain as the mind started asking questions of him. Who caused this pain? Is it my relatives who sent me here? What kind of relatives do I have? What did I gain by the love of my relatives? Of what use is this vanity? He soon realized that all his wealth, all his relatives and teachers will be of no use in times of pain and suffering. He discarded the sickle and started meditating on the Lord who is the one and only refuge that can end all suffering.
As he was silently meditating upon the Lord, a group of devotees were heading towards Tirupati. They were all dressed in strange ways. They were all sporting Conch and Discus, the symbols of divinity associated with Lord Venkateswara, on their upper arms. While some were playing some musical instruments, they were ecstatically singing the glory of the Lord repeatedly chanting the names Govinda Govinda Govinda and Hari Hari. Annamayya did not hesitate for a moment before he joined them, as if in a trance, and followed them in merriment singing and dancing along with the rural folks who are on their way to visit Lord of the Seven Hills. As for the pain, it was gone. Neither was there any pain in bidding farewell to his family and his native village.
It was a journey away from the family, but yet very close to the new family that awaits him in Tirupati – the family of Lord Venkateswara and his consort Alimelumanga. The journey was both strenuous and yet very enjoyable. It may not be his first visit to Tirumala, but he visited every major shrine along the way. As soon as he entered Tirupati, the first temple he visited and offered his prayers to was the goddess who still lives on the outskirts of Tirupati. The story of this goddess and the shrines he visited before his journey culminated in the magnificent view of the main deity of Lord Venkateswara deserves a special place. It must await its own narration in the next post.