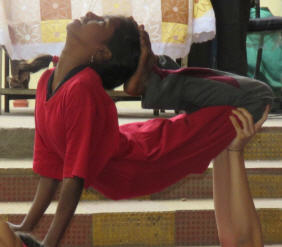 "Running is easier sir", blurted out one of my kids. He was struggling to get his body bend to perform a difficult yoga asana. This was the kid who was able to finish a 10K race in under 52 minutes. "You can only run, you cannot do anything that is more difficult than running" – I agreed with him with a haughty smile. In a snobbish way I asked him to leave the yoga classes and practice running instead. He said he will keep trying until he can get that asana right. Eventually he got it right. A team of 28 of our students practiced yoga throughout the summer to give stunning public performances during the days leading up to the International Yoga Day on June 21, 2018.
Before I can go into the details of our yoga performances in 2018, I have to present to you the story of the genesis of yoga as an inalienable part of our academy.
At Soham Academy of Human Excellence, our first brush with yoga started with the entry of two young fellows Bharat and Vignatha.  They now have their own yoga start up. It is aptly called Sudeha.
In my first attempt to get my kids to exercise their right to stay fit, I asked all of them to come to the ground by 6.30 AM on every Monday, Wednesday and Friday. The first few days we saw a lot of students come in droves. I did not tell them that they were going to learn yoga. I told them that they were all going to participate in a 5K run. They were all excited. But before they can run, they have to make themselves fit for a run. Hence, they have to do some yoga routines (called micro yoga) for at least half an hour before they can go out and run. They agreed, but soon some of them got impatient and started coming only after the yoga part is over so that they can just run. I told them that they cannot run if they do not do yoga. Some boys and girls dropped off. It was fine for me. Finally, a group of 15 kids stayed back and completed their first 5K with a thumping success on November 26, 2017. All of them completed the race with great ease. These kids received their medals and free T-Shirts. They all became instant heroes in the school.
For most children waking up early in the morning is a challenge. But they will do it if they see a value in it. Some parents refused to give them permission. Some of our girls did not join because their parents thought it was unsafe for their girls to step out that early in the morning. I provided some leeway for them. A couple of our boys could not join because they have to go out to deliver newspapers in the neighbourhood. I allowed them to join late.
Within a day after our first successful 5K run, I announced that there will be another chance to participate in a 5K run. 50 kids showed up. They all had to go through the yoga routines and then practice running for a few days before showing up at the event. This time, on December 2, 2017, all the fifty students completed their race with no issues whatsoever. Again, they all got their free Ts.  These kids became unstoppable. We were able to raise their energy levels to a new high. We just have to find a way to channelize them to do the next impossible thing. They never thought that they can run a 5K. Now suddenly only the sky appeared to be the limit.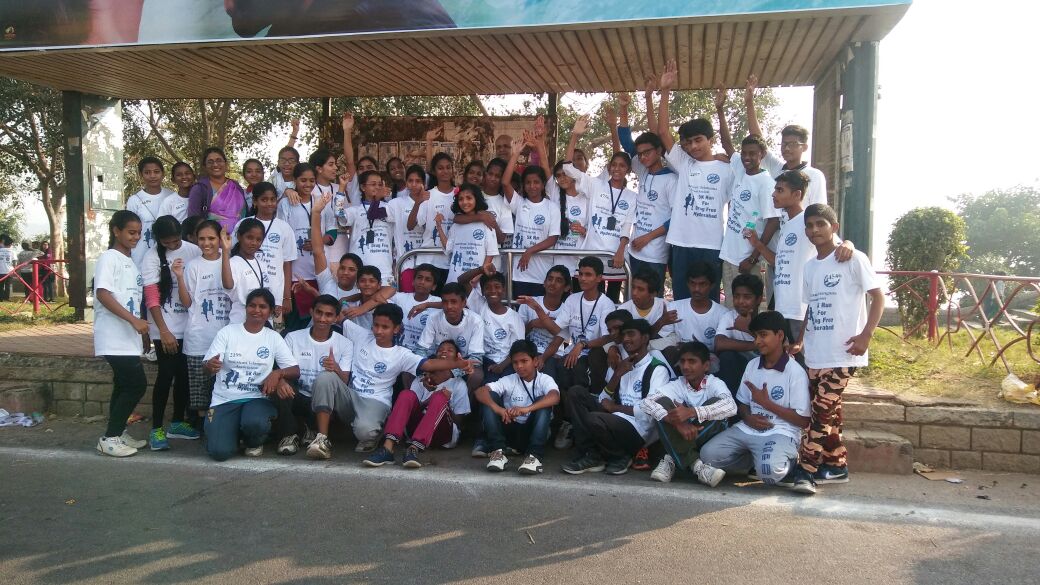 Republic day was just around the corner and we thought we should train our students to take their yoga routines to a new high. Both Bharat and Vignatha worked very hard to get our students to perform yoga routines in a full public view. We did not know if we will be able to do it right. We did not want to take a chance. I was not even sure about how safe it was for the kids to do bend their bodies in the ways that they never did. That is where Vignatha and Bharat came to my rescue. They took very good care of the kids. There were times I watched my kids do some of the most difficult asanas. Some cried silently and some not so silently. I comforted them to the best of my ability. It broke my heart to see some of our girls weep in pain. Over a two week period they all perfected their routines and their formations very well. There was no pain any more.
Our first yoga performance was on the terrace of the fourth floor of our government school. The school does not have a ground. In order to facilitate all the 1000+ students they have to use both the terrace as well as the ground floor area. For a group of 15 students we had a very narrow short space to perform a complex set of routines…
To be continued…