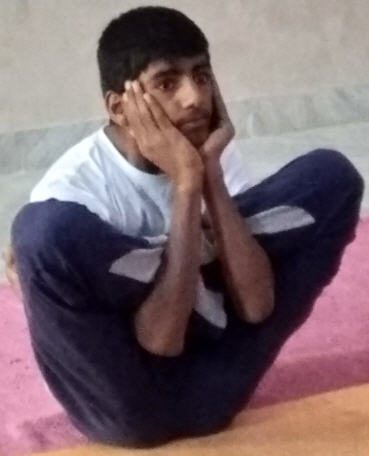 That terrace should accommodate 200+ children. 12 of our kids had to deal with a very narrow space to perform some complex set of yoga routines.
Please read part 1 before you proceed to read the rest of this article.
Since this was our first time, we invited a video person to be there to record the proceedings. The videographer arrived late and could not find a vantage point to record. The fact that it was on a sunny day on an open terrace with lots of shadows to deal with did not help. It was a very narrow space for both the spectators and the performers. There was no vantage point from which a good photo can be captured. Save for one or two good ones, I never bothered to collect any of those pictures or videos. The audio was to come from a mobile phone that gets connected to an amplifier. Minutes after our program got over the amplifier simply went kaput.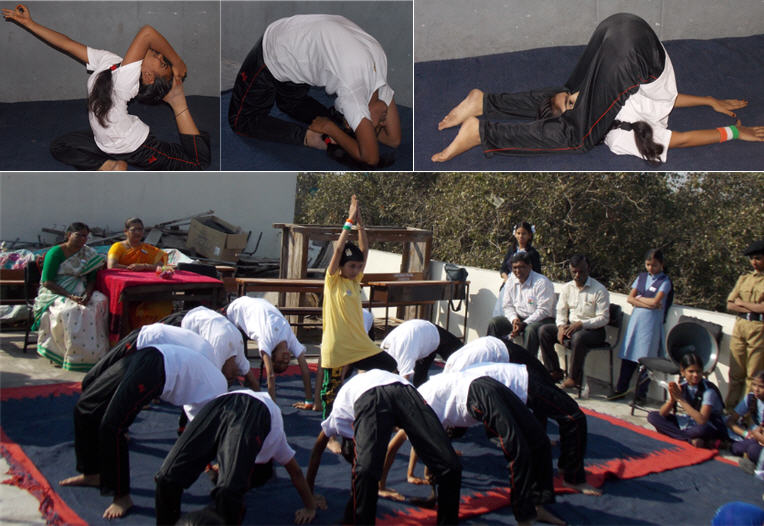 At the end of the day, the way the children performed raised many an eyebrow and dropped way too many jaws to count. They were simply superb. They were able to bend their bodies in the ways that are too difficult to even imagine in the first place. After the program got over, I took my kids to a separate room with plenty of light and asked them present their favourite asanas one more time and I took some good pics this time on my camera.
Here are out first batch of yoga students. They became the trendsetters. The big secret for those of you who are reading this post is this: It was entirely a girls only crew!!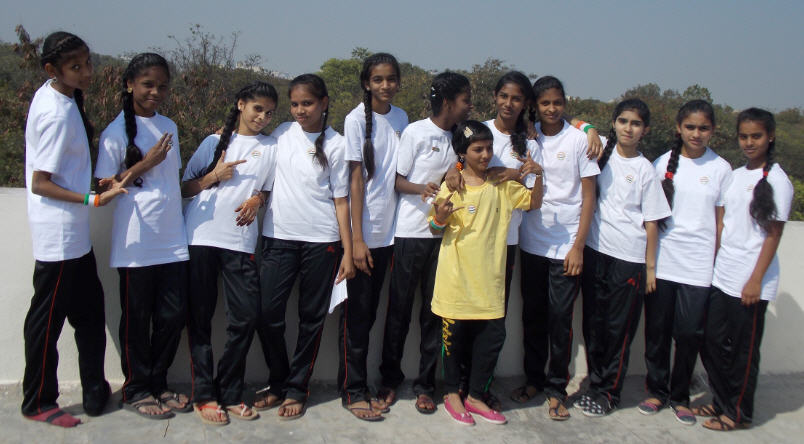 Within two weeks, we got another opportunity to train our kids for yet an another event. Science day which falls on February 12. This time we trained two separate teams. One for 13 boys and one for 12 girls. This turned out to be a bigger success. This time instead of the terrace we got the ground floor. There we had a relatively larger space to negotiate our activities with some relative ease. Both the teams performed equally well. It was a feast. More than anything else it inspired many of the student spectators  to learn yoga.
Here are the two batches of our students that performed yoga on the National Science Day.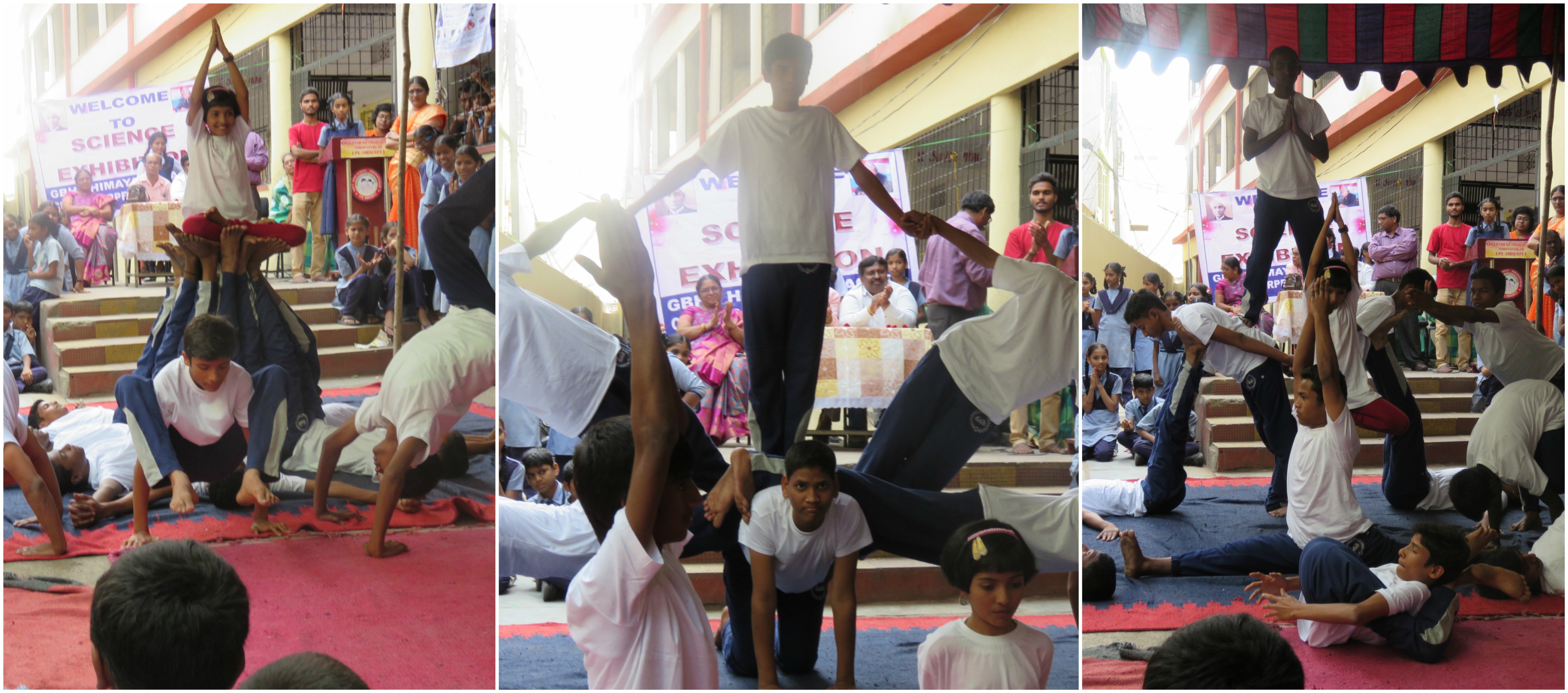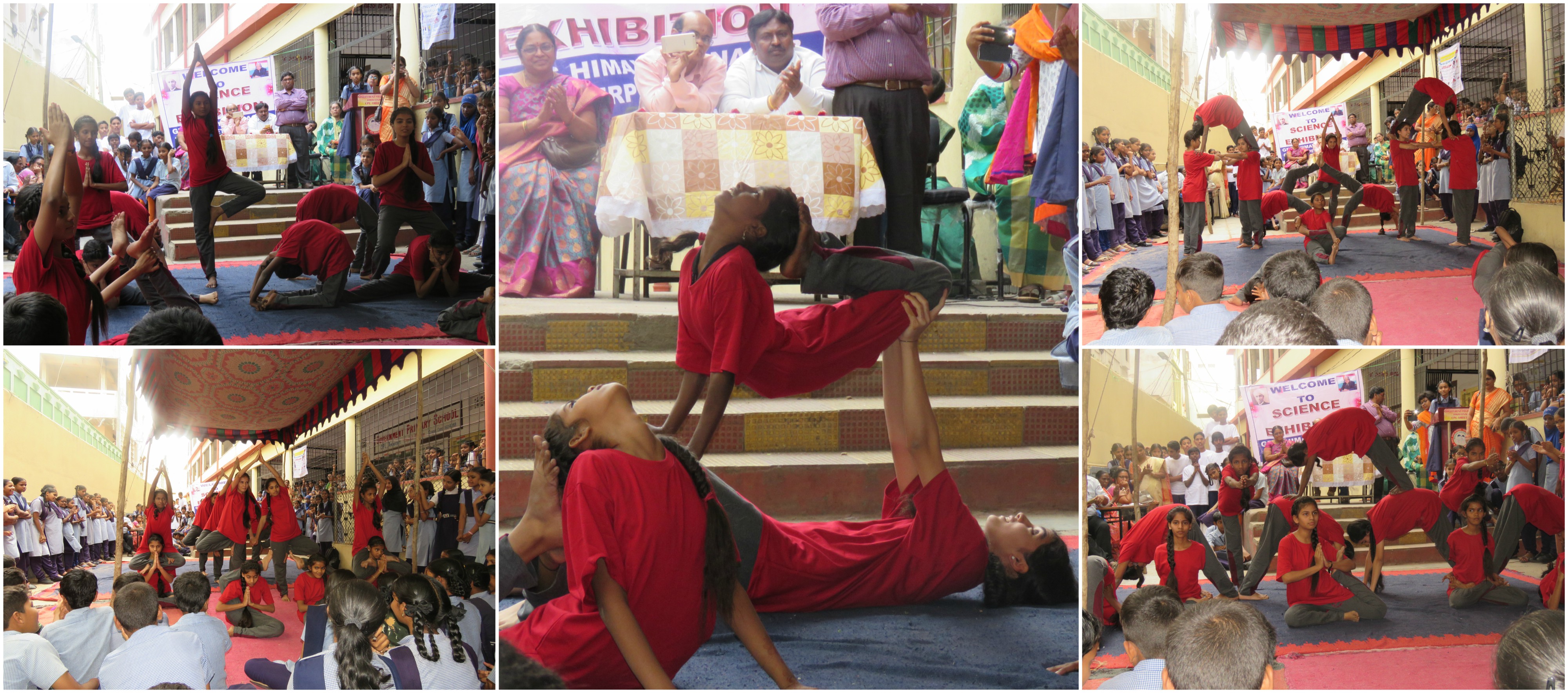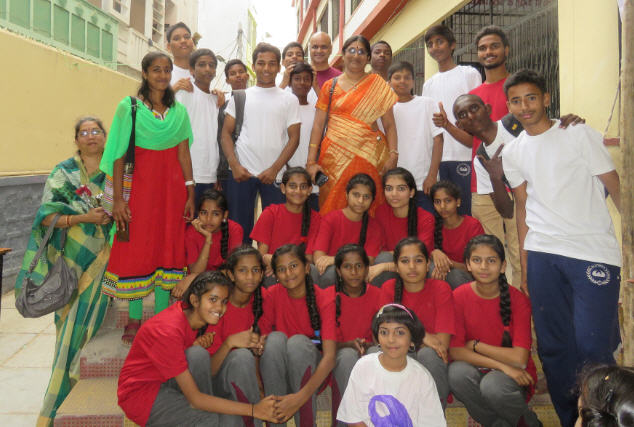 For both the republic day and science day events we arranged for some cool yoga tracks and t-shirts. This gave our students a sense of unity and purpose. It was watched by a local education official. So, it was the first time that the news of school's yoga prowess was getting circulated outside the school. We were pleasantly surprised when I and my wife were felicitated by the school management. Our new journey was about to begin.
In the mean time the thought of participating in a 10K run was not unthinkable. However the rigour for a 10K is a lot higher and I did not feel comfortable encouraging all of them to participate. I handpicked 5 students and helped them in training for an intense 10K run.  On a fine morning, I took them to the Necklace Road in Hyderabad. Completing a 10K run would require them to go around the famous Hussain Sagar in one full circle. Three of them finished within an hour with minutes away from each other. One boy arrived a little later. But one lost his way as he got too tired after completing 5 KMs. I had to search for him and bring him back. By 6:30 in the morning I brought them back to our base after a successful practice run. These kids were allowed to come to the 10K run only after they were able to complete 20-25 three hundred and fifty meter rounds in a local ground. I felt very happy and was willing to take them to the real run. Actually all of this practice and test runs were not necessary for both 5K and 10K runs. They can just go there have some fun and run/walk the entire stretch. But I did not want any of that. I wanted them to take it seriously as they should with anything that is too important to be taken lightly. That includes fitness and yoga. Hence all the practice.
On the actual day of performance, they did better than their practice run in terms of timing. I personally cheered each one of them. There was some visible excitement when they found out that an younger girl outperformed our best runner by over 8 minutes. I encouraged all my kids to go and congratulate that girl and request for a selfie with her. Healthy competition rarely hurts.
Here are our kids who completed 10K on March 4, 2018. They became instant heroes at the school. This year we have a new group of students who want to exceed the standards set by these 5 – Yogesh, Pavan, Sameer, Pavankant and Sathwik. I am really proud of these boys.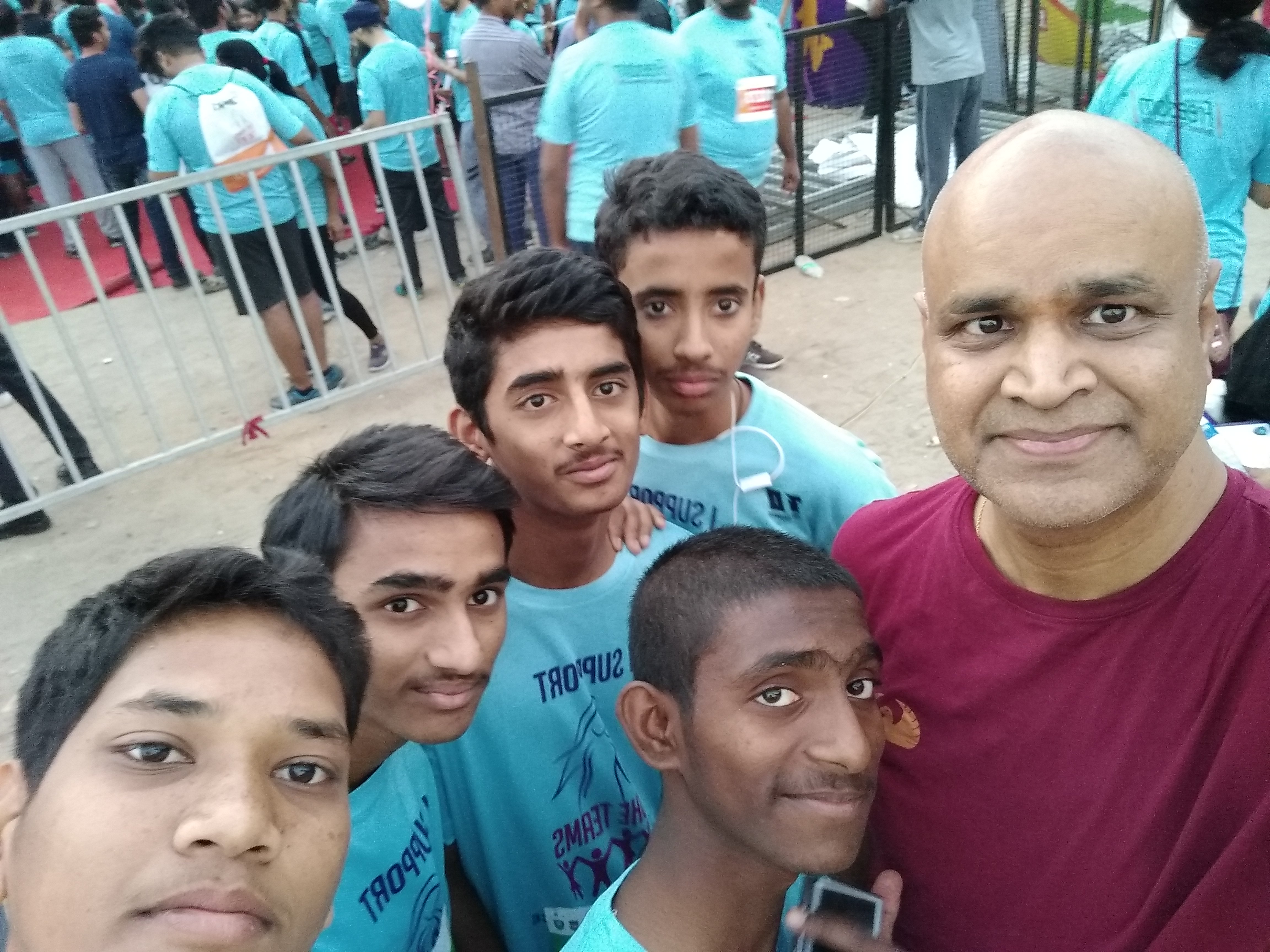 Before we knew it the academic year was about to get busy with the annual exams. We were still able to squeeze in one more event. This time we decided to take 15 of our kids to Yoga competitions. It goes without saying that it was a first for us and our students. They all worked very hard for the competition. They were expected to showcase their talents by performing  5 or 6 asanas from a set of 12 asanas. Which asanas to be tested on was to be decided by the judges. The asana set was released to us ahead of time. They were not easy. Some of our kids were able to do all of them, some some of them expertly than others. They all hoped that they would be tested on the asanas in which they have gained significant control and expertise. The results were announced a few weeks later. It was beyond belief for us when we found out two of our girls won the first and second prizes in their age category. Incidentally both of them are sisters from the same family – Sai Preeti and Sai Shreyanka. I was there at the event and watched our kids do their best. Our own yoga guru Vignatha participated and won 3rd prize in her age category.
Here are the students with their gurus Vignatha and Bharat.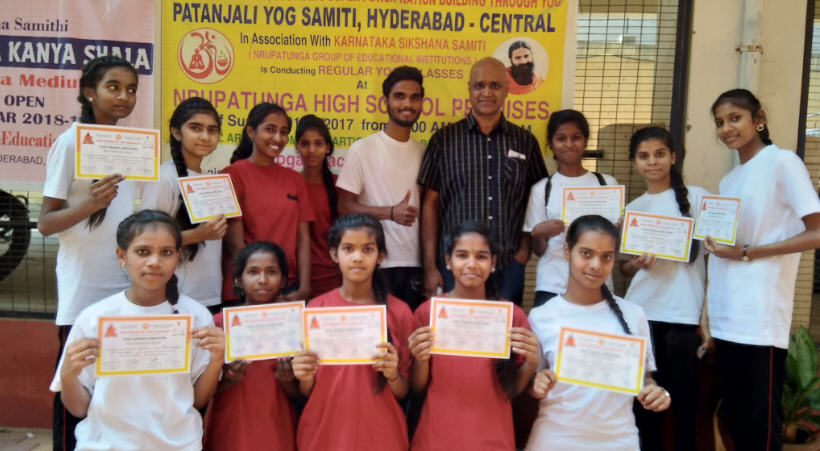 I keep telling my kids that they should get used to doing some of the most difficult things from a very early age.  Yoga helps them to stay focused, achieve higher levels of endurance and thus acquire rare talents.
It was annual exams time and we were all just waiting for the summer holidays to begin. We did not know that greater laurels awaited our yoga team. It all started with our training for one special event on June 3, 2018. That changed everything.
To be concluded…