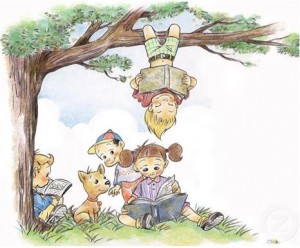 One day a teacher approached me and complained that one of the boys was reading comics during study hours. It was not just that, while he was pretending to read a text book he was actually reading a comic book that was placed inside a text book. This was too much for the teacher to handle. Another teacher complained that a student was reading comics in the classroom. We all did this when we were young. I wonder what would have happened if the classroom instruction is more interesting than reading a story book!

Managing Resistance
The complaints were only a few and I had to question the students. I asked students what happened, one of them said that he was reading the comic during lunch hour and after the bell rang he continued to read until the teacher arrived and that the teacher noticed that he was reading comics. That was it. When I asked the other student why he was reading comic books during study hours, he said he already studied everything that was required for that study hour and hence he was free to read comics! In any case, I had to warn students that if I hear similar complaints again, I would black list them and as a punishment they will not receive story books for one month. There were no more complaints after that.
A couple of teachers told me that I should not get too excited about students rushing to get books from the library. They told me that these students are coming to take books so as to impress me, otherwise they are just some rustic kids who have no interest in reading books. I was offended by the remarks but decided to let it pass.
Some teachers take academic work too far. For them a good student is the one who is studying 24×7. Reading anything else or doing anything else is a waste of time. The students are always reminded that playing sports or reading story books will not buy them food when they grow up. They simply do not see that book reading, sports, literary and cultural activities are all important components of the holistic development of a child. The thinking of parents is no different. So, it is no wonder that many schools do not take book reading too seriously. There is tremendous resistance to libraries development in many government and private schools. I continued the library work as if nothing was going to happen.
Ancillary Opportunities
I used the library project as a way to teach certain important aspects of discipline. The students are taught to enter the library in a line, not to push each other, allow girls to collect books before boys can come in, and maintain the books in a good condition. Whenever a teacher was absent, I used to go to the class and talk to them about the virtues of book reading. I used to narrate short stories and stories from epics. I encouraged them to read as many books as possible. Children obviously love hearing stories. When a teacher is unable to take a class for any reason, the class leader approaches me to check if I can go to their class.
The library project provided an opportunity to teach English language. English language can be learnt from speaking, reading and writing. The class books are mostly academic in nature and they do not teach the language. English grammar classes are usually taught by those who cannot speak good English and for obvious reasons the students do not enjoy these grammar classes. I encouraged students to read books and try to focus on sentence construction. It is easier said than done; most often they are lost in the story and it is only when I ask them to narrate the story in English that they fumble.
As the students were checking out books, the teachers also showed interested and started checking out books. I felt good and encouraged all the teachers to do the same. Our watchman visited our library and asked if he could borrow some books. I was more than happy to give him some books to read.
I wanted to come up with a list of must read books for students of all age groups. This is the list of the books that every student must have read before they leave the school for higher studies. This is a dream project. I have already created a list of books and I would like to fine tune it further. If any of my readers are aware of any such lists, please send it my way, many thanks in advance!
Managing the inventory
Managing a library required us to maintain an inventory of all the books in a nice excel workbook. Books are not checked out to students until they are inventoried, stamped and appropriately labeled. At the end of the academic year I inventoried all the books one more time and found out that only two or three books are not accounted for. Very soon there will be a need to replenish the books. There will also be a need to find appropriate magazines for the children to read.
I have a detailed list of all the check outs, but I have no metrics on popular books or on those students who checked out the most books or those who did not check out any books at all. The only way I know that a book is popular is by the fact that it acquires dog ears and some tearing across the folds. From my simple analysis, I now know that the biographies are not too popular whereas stories from epics, moral stories, such as the ones from Panchantanra and Jataka tales, humorous ones, especially Tenali Ramakrishna and Birbal stories, are very popular.
There are many things we can do to help students develop reading skills. In the next post I will discuss together what people like you and I can do!