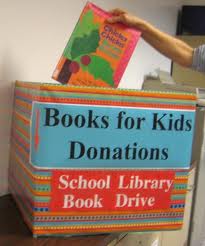 I know that this article will sound like a facebook update status that reads like this: "I know 99% of you won't repost this to your status, but my friends will be the 1% that do". Let me assure you that this post will not serve as an obligation on your part to help a library. Now that the important announcement is made, let us get back to how we all can help in creating and sustaining a school library.

There are many schools in India which do not have any library. Our own school with a good infrastructure cannot afford to have a separate room for a library. Several schools that can be considered good schools have one large room divided into several classes. In such scenarios it is unthinkable that the schools can afford to have meaningful libraries.
Many schools in India are struggling to make their ends meet. Add to this the fact that the entire country is obsessed with academic credentials; anything slightly outside the purview of academic work is considered a waste of time. A combination of these two factors, inadequate finances plus lack of an understanding on the role of libraries, continue to contribute to the absence of libraries in schools. A question that was asked in many schools is why they should have a separate library period when no other school is doing it. The vicious circle feeds on itself and grows wide and large. Rural schools are worst affected while the situation is no different in big cities. The biggest losers in the process are our children. If we do not intervene and change it, no one else will.
There is scope for innovation and many schools are doing some creative work in this area. A school that I know provided a box in every classroom. This box is called teachers kit box. This has many things such as chalk pieces, a duster, correction note books and finally a bunch of library books. When it is library period, the concerned teacher, who is not a qualified librarian, takes out all the library books and distributes them to the students. After the library period is over, the books go back to their position in the box. If there is no separate library, then the classroom becomes a library.
Please remember that a majority of the schools in this country are struggling. If they have good funding and support from the government, we would be talking about other issues. There are many ways we can intervene and make a small difference. Here is how you and I can help.
Encourage every child to read more and more books. This is perhaps the easiest and cheapest thing to do. When you are with a group of kids, ask them if they have heard the names of Tenali Ramakrishna, Birbal, Cinderalla, Pinocchio, and a few other names that you yourself are familiar with. Depending on the answer you get you can ask them what books they read and encourage them further to read more and more. I recently talked to a 4th grade student from UK who was on a visit to India with his mother who happens to be my niece. I heard that he likes to read books. I asked him what books he likes to read and with stiff British accent he said "Well, fiction and non-fiction". I was floored. I asked him what kind of non-fiction he reads and prompt came his nonchalant response "Mostly about airplanes and cars!" You see one can have a good conversation with kids who like to read books. If I had kept some kids books with me, I would have immediately gifted him one. When giving gifts to children, please consider giving books that they like to read.
If you know of a good school that is being run by a person you know or if you know a school where one of your friends is working as a teacher, then simply adopt their school library and donate books especially comics on a regular basis. Drop in a subscription to Chandama, Wisdom, Champak or any other similar children's periodicals as a gift to their school library. These things do not really cost a fortune but quite the opposite and the positive effects are too many to count.
If you are a parent, make sure to attend the parents meeting at your child's school. This is often a very important responsibility that many parents ignore. If parents meetings are not conducted you should take the lead in forming a parents association and frequenting the school to see how it is doing.
If there is a school library in your child's school, check it out and see if you can do your bit to contribute to the school library either as a volunteer or through some purchases. If there is no library demand for one and unite the voice of all the parents in setting up a library for the school. If there is an alumni association for the school you attended, join them and help your alma mater in as many possible ways as you can.
Finally if you are interested in joining me in supporting a library, please drop me a line, not just a line but an actual statement of purpose, and I will try and find an appropriate school for you to support. I will take up the responsibility of monitoring the school library on your behalf.
This country suffers from too much cynicism, a malady that is not easy to fix. We are not ready to do our bit. We suspect that every penny that is donated for a cause will line the pockets of some undesirable being. I am not sure if this is going to be a permanent excuse or a permanent real reason. Either ways we are doomed. But in my perspective, a small nudge here and there and a little bit of homework is all it takes to do our bit. A country can survive on the noble pursuits adopted by its good natured people, even if the percentage of the good natured people is just that 1%.