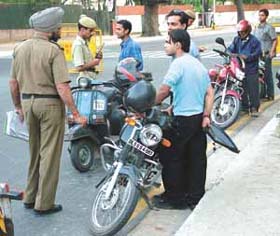 A few days after moving back to India, I bought a two wheeler to move about. It is not easy to ride a two wheeler in a city like Hyderabad. But since I grew up in Hyderabad, I thought it was almost going to be a second nature for me to navigate the busy city streets. I was not wrong and I was able to ride to far off places with ease. Within a week of the purchase of this new vehicle I was stopped four times by the traffic police.
Way back in 1990 when I just received my driving license, I drove a two wheeler, one day, without realizing that I did not have my license with me. I was stopped and I did not have any money on me, save a 10 rupee bill which will not suffice Rs. 40 penalty for driving without a license. I convinced the policeman that I had a license and it is just that I did not have it on me. He believed me, but I had to pay the penalty. After much haggling, we finally settled on a penalty that was acceptable to all and luckily the fine is exactly Rs. 10. The penalty however was for foot boarding a public transportation bus! I got away with a big smile on my face. At least the policeman gave me a receipt for a transgression that I did not commit and there was no bribing involved.
I will now come back to the recent days. The first license I received was valid for 20 years, but in 2011 it was already a year since it turned invalid. I tried to renew my license and found out that I am not eligible for a simple renewal. I was told that I had to go through the rigours of getting my license as if I never had one. In other words I am not going to have a license to ride my two-wheeler for over a month. I took a chance and ventured on the streets. After all some of the people I know have been driving for decades without a license. I did not realize, however, that my new two-wheeler with "For Registration" tag is going to be an eye-catcher. The fun begins.
On the second day, on my way to my brother's house, I was stopped by the traffic police. There were four of them and they were all very friendly. One of them asked: "Hello sir, new vehikilaa?" "Yes." I replied. "Where are the sweets? I am sure you gave sweets to all of your family members, what about us?" he ventured to ask. That question did really put a big smile on my face. I told him that I did not buy any sweets yet. Then the routine started when he wanted to see my temporary registration papers and of course my license. I showed him my old license and before he realized that it expired, I told him that I am in the process of getting a new one. For all of them it is as good as not having a license at all. "Give us some party or buy us some sweets and you can be on your way" is the kind of talk I was hearing. I kept sharing the jokes with them nervously. In the mean time I asked if I can talk to their superior who was standing on the other side of the road. I was allowed and very soon I found a kind hearted person who said I might go with a warning that I should try and get my license soon. I promised him that I will get my license soon and I started my bike and left the scene with no incident.
On the third day, I was coming back from Charminar area, the real old downtown of the city of Hyderabad. I was stopped again. This time also there were about four of five policemen, however each one of them was busy with at least one person that was stopped for routine checking. So, I had to deal with just one person. The routine check showed that I did not have a valid license. I have to pay a fine of Rs 300.00 or so or just tip him a small amount and move on. I was unwilling to pay anything and I made a big mistake of telling him that I just returned to India and I am in the processing of settling and therefore I needed some more time to get my license. Then he put a big smile on his face and asked me whether I am a millionaire. There is no point in responding to that question. I had plenty of time to discuss with him about anything from Obama to the weather in Hyderabad. He did not have that kind of time at his disposal. He had to take care of his business of stopping other vehicles. You see if it is a simple business of writing out a ticket(challan) and handing it to me, I would have been on my way home. It is not that simple. He prefers that I do not spend the amount that goes to the government. After some prolonged waiting he had to let me go with a wry comment that does not go well with anyone.
The fourth day I was stopped near the Secunderabad railway station. Same story except that I found a very kind officer who understood my case. I had to tell him that I just moved back to India and it is taking some time to settle down. He already knows that it takes over a month to get a new license. He was sympathetic and allowed me to go. Within a mile after I moved on, I was about to be stopped again. I slowed down my vehicle and without stopping I told the policeman that I was already stopped just a few minutes back. He asked me where I was stopped while walking with my slow moving vehicle. I told him the exact location. He was convinced and did not bother to stop me.
You see I am already in the system. If it were the U.S or Singapore I would not even get on the road without a license. In India I did, because the system allows me to drive without a license and easily get away when stopped. There are some gray areas of the law that allows anything to happen. How the law works is really a complicated thing to understand. Each time I was stopped I was let go without much hassle. People do understand when our problems are genuine. It does not really matter whether the law is at work or not but people and their collective conscience is clearly at work. Millions of people in India have millions of stories about their experience with the traffic police. When I started narrating my story to my brothers, each of them had at least one hilarious story to tell me.
It does not endear me to my own countrymen when I write about India highlighting its deficiencies. This is my country and I so longed to come back here and do my bit. I have lost my faith in the generation that made corruption a national institution to be revered and adhered to. I am pinning my hopes on future generations that are going to be determined to dismantle corruption and put India back on the path of the values that it created and nurtured for eons. Until we achieve a corruption free India we have to live with it a little tactfully. Even as we try and do our bit, we should not lose our sense of humor!