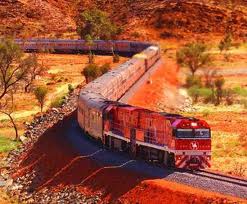 Driving in India (Part 1 and Part 2), as I wrote earlier, is a little tricky, but I must confess traveling is pure pleasure. I have traveled by road, rail and air in India, but clearly rail travel is the one I enjoyed the most. When you travel by rail, a mini-India travels with you. You do not have to engage them, but just being with them makes you experience life in India in a miniature fashion.

When you travel by train there are several options. General compartment is the least expensive one and for obvious reasons is the most inconvenient. This is followed by sleeper class which is not too bad, but not my preference. The best of course is the third AC. You will be provided with clean pressed bed sheets and well maintained pillows in addition to a closed compartment with AC. There are higher grades like second AC and First AC, but they are too expensive and certainly more than what I need. When traveling in day trains, where the train starts and terminates the same day, my preferred class of travel is AC chair car. The seats are well cushioned and the compartment is a closed one with air conditioning.
Booking for tickets is surely an interesting experience. Your ability to book your tickets in a timely manner depends largely, in the order, on your horoscope, patience and experience. Tatkal reservation is by far India's greatest innovation in rail booking. It allows for reservation of your train tickets a day before you plan to leave. Such reservations open up at 10AM every day. This is supposed to be for the last minute travelers, but almost all the people end up booking this way. The Indian Railways website, which facilitates such late reservations, admitted that the site is unable to handle heavy traffic between 10AM and 11AM. That is where your horoscope plays a major role in getting your tickets booked. With enough patience and experience you will scrape through your booking around 11.15 AM. You pay some extra price for tatkal reservations, but the joy you experience after a successful booking is priceless. If this does not work you will then redirect your efforts in getting a bus ticket.
I haven't really traveled long distances on the trains. Most of my trips were within Southern India. Once you get on the train you will run into some very colorful people. You are very likely to run into complaining aunts, talkative college going boys and girls and those buried somewhere deep in their ear phones. The most interesting ones are those who watch movies on their laptops without using ear phones. You get to "hear" the entire movie, if lucky enough, in the language that you understand. It is even more interesting that no one tells these people to put on their ear phones. The environment is very lively. You will find on one hand those watching movies without earphones and on the other a bunch of middle aged folks talking about politics, the all time favorite topic that is followed by cricket. Listening in on any of these makes your travel both light and fast at the same time. If you pay too much interest and hear the conversations too explicitly, you might get invited into the conversation with simple questions like "Don't you agree sir?" or "What do you think sir?"  I avoid such invitations by simply putting my head deep into a book that I am either reading or pretending to be reading.
While traveling, I usually carry a good book to read. Many times I was unable to read even a small portion of the book. The environment simply does not permit me to do so. However, I am able to open my laptop and start working on some assignment. Most of my travel, so far, was during the nights and therefore not too productive. However, I can confidently say that the rail journey is certainly the most comfortable and most rewarding travel experience in India.
There are way too many places to visit in India. Most of the travel, so far, was work related and to the places that I already visited many times, hence not much of sightseeing was possible. God willing, we will try and accommodate a few of those exclusive sightseeing trips or pilgrimage tours. When I do that I will certainly have plenty to type up and produce the same on this blog!
This series on "Living in India" will end for now. As and when I find a suitable topic that is worth writing about, I shall include it in this category. Until then, my readers will start reading a new series that will be announced shortly.