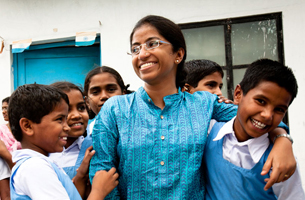 India is a nation that is blessed with some amazing people who possess great character, attitude and unflinching devotion to the causes they engage themselves in. It is these people, their humility and their down to earth living that is defeating all the negativity that is engulfing our great nation. When you are involved in a cause, such as education, you invariably attract some people into your life. This in itself strengthens your determination and enhances your outlook.

Here is the brief profile of an indefatigable warrior who is fighting the evil of human trafficking.
Sunitha Krishnan: I visited her in Hyderabad at her office in the Charminar area. Volumes are written about this great lady and her achievements. She received several awards for her untiring work. It is her passion, compassion for the victims she rescued, and her strong leadership that form the core of her ability in rescuing thousands of girls who are forced into prostitution. She works throughout the day training policemen, army men and a host of others in sensitizing them about the problems of human trafficking. She scans the newspapers every day for advertisements that entice girls into the film industry, plans and assists in raiding brothel houses, provides shelter for the rescued women and even runs several schools to help the children born out of prostitution. She faces challenges every day and every hour. She gets threats on an hourly basis on some days. She and her co-workers were beaten up by the goons. Inspite of all the odds against her, she never gave up and continued her fight and is determined to carry on the fight till her last breath.
We, I and my wife, spent an entire day, around December 2010, touring the new shelter that was under construction at the time near Hyderabad. She guided us through the tour and talked to us about a number of issues. It is when you talk to her that you will understand her passion for her work.
Prajwala, the NGO that Sunitha Krishnan started, organized a National Survivors Conference from June 28 – 29 in 2011. I, along with two other persons, was invited by her to help in documenting the processes and prepare a booklet that will be distributed to various government and non-government agencies. I took plenty of notes from the conference and assisted in preparing the booklet. It was my first project after I returned to India and before I started working at the Nandigama Sathya Sai School. It was a conference that brought together all the survivors who were rescued from clutches of the flesh trade. It was heartwarming to see all these young survivors who are determined to rescue others who are still suffering from unheard miseries. All these survivors are either gainfully employed or are working with anti-trafficking agencies. It is after seeing these young girls that I realized the true power of Shakti, the Feminine Form of Divine Energy, which is dormant in every woman in India. It surely surfaces and acts swiftly when provoked. The conference ended on a very high note when all the survivors held out a candle each and took an oath to stay strong and committed to the cause of protecting and rescuing the suffering women. A true leader not only works untiringly but inspires others to do the same.
During the tour of the facility, I noticed that Sunitha Krishnan was walking barefooted. I asked her for the reason. She mentioned that she was on a vow. She was in the process of building a massive shelter that can house nearly 2000 victims. She was going through several hurdles and she needed a lot of energy, focus and determination to get it done. She said that she derives that necessary energy and strength from mother earth. Six months after that tour, I took part in the National Survivors Conference as a process documentation person. During the conference we all visited the new shelter. The construction was completed by then. There is a good sized open air meditation hall, an amphitheater and separate shelters for women and children. It looked more like an ashram that radiated peace rather than a shelter for the victims of human trafficking. She is a true yogi who continues to inspire many. I am indeed very fortunate to know her.
Here is a brief excerpt of the thoughts I penned down on these issues. All the links below point to my articles on sohamtimes.org:
I have been doing some research on the role of women in our societies. This led me to discover that a woman is truely an epitome of patience. Women own up half the sky, but they are not given their due share. They are subjected to severe troubles but they are the ones who can really solve all the problems of the world. To know how, you should first read about the girl effect.

What a shame it is when millions of children in India are forced into prostitution! Many people worked very hard to create a path from this darkness to a new light. Between you and me we too can join the fight against this national shame of ours.
In the next post, I shall write the profiles of a few groups of people who are less known but nevertheless a strong force that is set to alter the course of this nation by revitalizing the moral and spiritual values that are our inherent strengths.