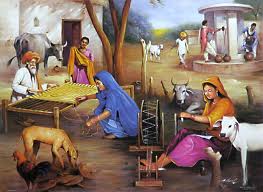 It was around 10.45 PM and I was on my way to the bus stop to catch a bus to go to Hyderabad from Nandigama. It was going to be a 15 minute walk and I was walking towards the bus stop along with my small carry bag. Within a few yards from our apartment complex I was accosted by a motorcyclist. I do not remember seeing him before let alone knowing him. He stopped me and asked me where I was heading that late in the night. I told him that I was going to the bus stop. He told me that he knows me and that he would be very happy to give me a ride. Within moments I was his pillion rider and happily chatting along the way. He dropped me off at the bus stop that late in the night even though the trip was away from his regular route. I was very moved by this unexpected random act of kindness that too from a complete stranger.
I was exposed to such acts of kindness more frequently than I ever imagined. I think it is one of the blessings of living in a small town where everyone knows everyone else. My banker who understood that I was new to the town offered to get my voter registration card done without even asking for it. He got the papers ready for me and got it all filled out, signed and then sent them out for registration. A friend of ours came forward to help with the new gas connection. A gentleman, about whom I am going to right a whole new article, gave me several tips on how to work in rural schools. His tips were invaluable. He himself is a teacher in a government school who is making remarkable contributions to the cause of education.
We get to celebrate all the major festivals in a unique way. Indian culture is still very alive and active in the remote parts of India. Major festivals like Sri Rama Navami, Dassera and Deepavali are celebrated with great pomp and gaiety. The other day I went to watch a play. The stage was setup in the middle of the road with speakers on the sides. No one complained about the blocked road. Instead everyone came in droves to watch the play, some standing and some seated on the plastic chairs spread out on the road. The actors in the play were very talented and did their bit to make the story very interesting.
There is something or the other going on almost on a weekly basis. Kaartika maasam, the eighth lunar month that falls around November, is a very significant one with activities in all the major temples. There was a 10 day event in Nandigama that was well attended. These events are some of the most interesting things to look forward to. There was a talk by an elderly scholar about the stupendous works of Saint Thyagaraja. I was almost in tears listening to one of the best lectures I ever listened to on the devotion of Saint Thyagaraja. There was also a Geeta Avadhanam by a 7th grade student who was able to flawlessly recite any sloka from the Bhagavad Gita. The audience and some of the available scholars in the area (about 8 of them) ask her to recite by pointing a number from a certain chapter. She would recite that confidently without having to think twice and then explain the meaning. There are many variations to such questions and she was able to handle all of them very easily. She is also an excellent speaker and singer. I promised myself that I would never miss any of her programs if I am in the area. So far I was able to attend her program three times and thoroughly enjoyed every time.
There are a number of temples to visit in the area although we got a chance to visit only a few. One of them is on a hilltop which is a very pleasant environment to be in. Natural habitats and farm fields are not too far if ever we wanted to venture out. The topic about the authentic vegetables and tasty food is something that deserves a special post of its own!
Living in a small town brings with it many advantages which clearly outweigh the disadvantages such as not having a decent place to dine out and a good theater to go and watch a movie. On the Sai Center front, there are activities that are not typically found in many major cities. On the day of Bhagawan Sri Sathya Sai Baba's birthday last November, there was a big procession through the major streets of our town. At every major intersection the procession stopped to allow for a "Kolatam" dance presentation by the students of our school. It was one of the best days ever for me. Recently on April 24, Bhagawan's Mahasamadhi day, there was a pallaki (palanquin) seva and there was a procession, amid singing of Sai bhajans, through the streets with a picture of Bhagawan installed in a pallaki. The procession stopped whenever some family wanted to come out and offer their obeisance to Swami in the form of arathi. I was privileged to carry the pallaki on my shoulders.
We are frequented by our little guests in the neighborhood, most of them primary school kids. They greet us on our way out and way back in. "Uncle how are you?", "Bye uncle", "Bye Aunty". They visit us and sometimes learn some devotional songs/slokas from Sobha.
I can keep complaining about people who don't know how to come to the point, about the protocol issues that I had to suffer from and about the unending woes with the traffic police. But this is still my country that makes it the most interesting place ever to live in. I pray to Almighty God to grant me the privilege of a birth in each life in no other place but in India.