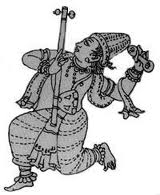 To discover the uniqueness of Annamacharya's compositions one must understand the basic organization of his sankeertanas.  The compositions of Annamacharya are called padams. In simple terms a Padam is a song.  These padams are devotional in content and nature; they are in praise (keertana) of a deity, so they are also called keertanams or sankeertanams.  A padam is a poetic composition, which has a pallavi or refrain and one or more charanams or stanzas.

These compositions typically start with a pallavi that conveys the main theme where as the charanams consist of a subset of ideas beautifully connected to the main theme. A repetition of the pallavi after each charanam draws the listener back to the central idea behind the composition. Annamacharya's compositions typically have 3 charanams. One of his longest known compositions has 25 charanams. Each composition consists of a mudra in the last charanam. Mudra is the mark or signature of the composer. This is usually the name of the composer or the name of the composer's favorite deity. Annamacharya's mudra always consisted of Lord Venkateswara irrespective of on what deity his composition was on. He rarely mentioned his name in his compositions.
With this basic understanding let us listen to one of his compositions vinaro bhagyamu vishnu kadha:

If the above control does not work, click here
In this composition the author is exhorting the devotees to listen to the stories of Lord Vishnu because they provide us with great strength and comfort. That is the primary theme of the composition. There is no story of Lord Vishnu in this composition; instead it talks about the importance of the stories of Vishnu. The stories of Vishnu are sung daily and treated on par with Vedas; these stories are narrated by sage Vyasa and sung by sage Narada. If you noticed at the end of each stanza and pallavi, the composer is drawing the listener back to the importance of vishnu kadha. The chanting of om namo naarayanaya at the beginning of the song is an improvisation of the singer. Such improvisations are allowed as long as the singer does not tinker with original literature (sahityam).
What we studied in the previous composition is something that is typical of majority of his compositions. However there are other variations to this standard. Listen to this composition and you will understand the variation instantly.

If the above control does not work, click here
The variation in this song is simple; the song did not start with the pallavi. Instead it started with a charanam!  When you hear this song for the first time, you will not understand who is saying what! This song is a simple summary of the Bhagavad Gita. Annamayya narrates a discussion between Lord Krishna and Arjuna. He interjects in the pallavi mode to tell his intellect to listen to what Krishna is saying and in effect sing His glory.
Every composition of Annamacharya invariably connects the theme of the song to Lord Venkateswara and His glory. The above song vinaro bhagyamu Vishnu kadha is about Lord Vishnu, but it ends with a note that listening to these stories of Lord Venkateswara is a gateway to the abode of Lord Venkateswara. For Annamacharya Lord Vishnu and Lord Venkateswara are one and the same. Similarly bhoomilona chocchi sarva bhoota praanu is about Lord Krishna and His discourse Bhagavad Gita. How does Annamacharya connect this to Lord Venkateswara? The song ends in Lord Krishna telling Arjuna – "if you think carefully you will know that I planted myself as Lord Venkateswara". Such is his devotion that there is nothing in this world that cannot be connected back to Lord Venkateswara.
We will end this discussion with just one more composition, tiro tiro javarala titti titti. You may listen to this composition using the control below:

If the above control does not work, click here
This song did not make any sense to me for the longest time. I am sure you will experience the same. Some parts of this song are just some sounds that do not necessarily mean anything; they are the rhythmic syllables that are part of a dance sequence. This is a song about mother Alimelumanga as she dances to impress Lord Venkateswara.
Categorization
When I started listening to Annamacharya, I did not know how to categorize his compositions. It is now apparent to me that nobody clearly knows how to do this. There is such a wide variety in his compositions that it is very easy to get lost in technicality when one resorts to categorization. That said there is a very basic division that comes from the inscriptions on the copper plates – Sringara or Romantic and Adhyatmika or Devotional. Finer subdivisions came later from various scholars who studied the compositions. These include Bhakti (Devotion), Madhura Bhakti (Romanticism), Neethi (Morals), Vairagya (Dispassion or Detachment) and Sangeeta and Abhinaya (Music and Dance). Veturi Prabhakara Sastry identified as many as 40 different categories.
Poetry in a majority of Indian languages is in two parts – pada kavita and padya kavita. Padya kavita follows strict rules of grammar as well as poetic meter called chandas. On the other hand pada kavita does not follow any rules of grammar although a certain style and format is necessarily observed. It is natural that padya kavita appeals to the pundits while the pada kavita appeals to both the learned and the laity. Annamacharya's compositions use simple words in a simple language without suffering from the constraints of grammar. This is what connects every devotee to his Lord in many meaningful ways. This is also the big secret behind the popularity of the compositions of Annamacharya. He adopted the pada kavita style of poetry and thus he is aptly called the grandsire of pada kavita – Pada Kavita Pitamaha.
A single poem narrated by Chinna Tirumalacharya summarizes what one can expect to find from all the compositions of Annamacharya:
srutulai sastramulai purana-kathalai, sujnaana saarambulai
yatilokagama-veedhulai vividha-mantrarthambulai neetulai
krutulai venkata-saila-vallabha-rati-krida-rahasyambulai
nutulai tallapaaka annaya vacho-nootna-kriyal chennagun

Going by this poem – his compositions contain truths from the Vedas, knowledge derived from the scriptures, stories from the puranas like Bhagavatam and the 18 puranas authored by Veda Vyasa, a summary of good knowledge, a reading into the minds of the yatis or ascetics, meanings of various mantras, morals, plain compositions, the secrets of love sports of Lord Venkateswara and praises of the God. There are a few other poems in Annamacharya's biography that describe similar sentiments. However, the supreme basis and foundation of all his sankeertanas is his unconditional surrender and uncompromising devotion towards Lord Venkateswara.
Annamacharya Sankeertanas are not easy to understand as they contain language that is a little bit antiquated. His compositions are now over 500 years old. Many of the words in his compositions are not in vogue anymore and some of them are hard to find even in Telugu dictionaries. Also, he picked up words from a local dialect of Telugu language that may not be in use throughout the Telugu speaking regions. Even within the local dialect some of the words may not be in use any more. In addition, just like any other poet, he adds a twist to the words that not many can immediately grasp. This poses a significant challenge to even Telugu speaking people to comprehend Annamacharya keertanas. This is not to say there are no compositions that can ever be understood. Some of the songs are absolutely simple to follow, understand and a joy to listen to. It helps to attend concerts featuring Annamacharya keertanas where the singer does a good job at explaining the meanings. Garimella Balakrishna Prasad is known to do a great job at explaining the words used in the compositions of Annamacharya.
It is difficult to discuss such a vast topic in just one article, but I should stop at some point and leave you all to think and grasp the beauty of his compositions on your own! One must understand that his compositions are devoid of any beauty or talent if they lacked in devotion and complete surrender to the Almighty God. Understanding and measuring the devotion of Annamacharya is no easy task and you have to wait until the next post to read my humble attempt to do the same.