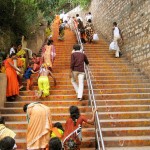 My first trip to Tirumala was in late 1970s. There are a couple of things that I remember vividly from that trip. One of them was the rickety bus that took us up the hill from Tirupati. Whenever it was slowing down, I was convinced that it will stop and then start rolling back into the deep valleys down the hill. None of that happened. The approach to the main temple was way different from these days. It was a series of steps followed by long bridges and a series of steps again. It was scary to watch so many people cramped along such narrow paths.
That was 3 decades ago. You have to go back a few centuries to arrive at 1424, the year when Annamayya reached Tirumala. He took the most tortuous route along the seven hills starting from Alipiri. It is about 3300 steps along 9-10 Kilometers stretch by the current estimate. Biography of Annamacharya, as written by Chinnana, names a number of places that Annamayya visited on his way to have the darshan of Lord Venkateswara.  Annamayya arrived at Tirumala after covering a distance of nearly 100 kilometers. The next day, he started early in the morning and followed the path covering many important sacred sites.
Alipiri:  This is the first stop on the way to climbing up the steps. He offered his prayers and salutations to Lord Narasimha Swami at a temple near Alipiri.
Talayerugundu: When the devotees who climb up the stairs are tired and afflicted with headache and knee joint pains, they touch their head and knees to a rock called Talayerugundu.
Pedda Ekkudu: Each of the steps in this area is of considerable height and requires a lot of effort to climb. Things may have changed with later renovations and construction, but the name remained.
Kappurapu Kaluva: There is a stream along the path, right after Pedda Ekkudu and before Mokalla Parvatam. The water in the stream emits great fragrance, similar to that of camphor, hence the name Kappurapu Kaluva. It appears that this area may not be recognizable these days. There are historical references to this place.
Mokalla Parvatam: This is the area of the hills that is the steepest. By the time he reached this point he was completely exhausted.
It is possible that all these places had different names at different times especially in the local dialects of Telugu and Tamil. I am only mentioning the names the way I found them in the biography of Annamayya written by Chinnana and researched and published by Veturi Prabhakara Sastry.
Blessings of Goddess Alimelumanga
In the Mokalla Parvatam area, Annamayya picked up of one the places to rest and immediately fell asleep. Alimelumanga appeared in his dream and spoke to him as lovingly as a mother would speak to a child in pain. She told him that the temple land is a very sacred place and in order to respect the sanctity of the place one should avoid using any footwear. She advised him to remove his shoes to regain all the strength and energy. She gave him prasadam and nourished him with good food. Goddess Alimelumanga treated him as her own son and he treated her as his own mother.
It was only after he regained his consciousness that he realized it was none other than Alimelumanga who nursed him. He was unable to figure out if it was real or just a dream. At that very instant he composed a satakam on Alimelumanga. A satakam is a series of 100(sata) poems. In composing this satakam he used utpalamala and champakamala patterns of Telugu grammar. Although it was entirely in praise of Alimelumanga, each of these poems ends with the name of Lord Venkateswara. In fact it is called Venkateswara Satakam. It was his first satakam.  In the opening lines Annamayya says that he will treat and serve Alimelumanga as an equivalent of Sri Maha Lakshmi, Jambhavati, Satyabhama and Rukmini. Although he was just 16 when he composed it, Annamacharya's Venkateswara Satakam is considered a classic. It is believed that the prasadam that goddess gave him had a magical effect on his literary skills. Such magical transformation is not entirely unknown in the literary circles of our nation. Several centuries earlier goddess Kalika Devi transformed Kalidasa, someone who was not so bright, into the most famous poet ever known.  In 1500s AD, Tenali Ramakrishna of Vijayanagaram Empire was transformed into a vikatakavi, jester-poet of great fame, after consuming the prasadam given by goddess Kalika Devi.
Annamacharya composed a number of songs on Alimelumanga. Many of the words and praises used in his Venkateswara Satakam, his first biggest creation, found their way into his later compositions. An example that is worth mentioning here is his famous composition chakkani talliki changu bhala. The words changu bhala are used repeatedly in poem number 54. Changu bhala is something akin to saying Jai Ho. In the poem he says changu bhala to Jagatpati, the Lord of the Universe, and changu bhala to Jagadeka Mata, mother of the worlds, changu bhala to Venkateswara and changu bhala to Alimelumanga. There are many folk songs in Telugu that use these words. Annamacharya's composition chakkani talliki changu bhala stands out for its beauty in its lyrics as well as the effective use of these words in beautiful rhythmic patterns. In this song he says changu bhala to each facet of Alimelumanga as she interacts with Lord Venkateswara. This is classified as a romantic composition. You may listen to this composition from the control below.

If the above control does not work, click here
With renewed energy and vigor, Annamayya continued the journey along the seven hills.  He stopped at several important shrines and composed songs along the way. The story continues into the next post.