Divine Melodies – By K. Ashwin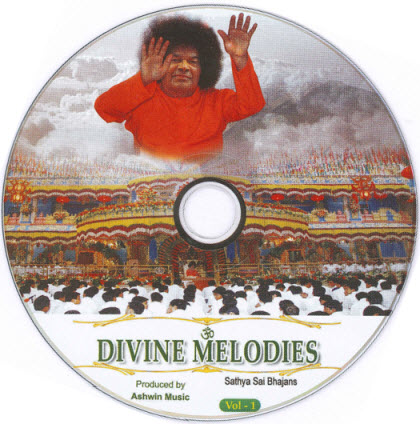 My brother, Komaragiri Ashwin, produced a wonderful CD titled "Divine Melodies". It is a compilation of Sri Sathya Sai Bhajans with 12 bhajans that follow a very well rendered Veda chanting. Apart from the usual instruments like Harmonium and Dolak, he used a wonderful set of accompaniments like Flute, Violin, Sitar, Tabla and Keyboard to provide a rich musical background to the soul stirring bhajans. A very professionally done recording, mixing and mastering is visible in the way fine sounds of the musical instruments and deep voices are captured.
Bhajans are lead alternatively by Ashwin and Pooja Vaidyanath. Here is a sample of what's on the CD:

If the control does not work, click here
About Ashwin
Ashwin did Master of Arts in English at the Sri Sathya Sai Institute of Higher Learning. He is blessed by Bhagavan Sri Sathya Sai Baba with several opportunities to sing in His divine presence. He is a regular at Shivam in Hyderabad, leading and organizing bhajans. He plays harmonium, keyboard and harmonica and developed a keen interest and ability to sing a wide variety of songs. One of the solo bhajans that he sang in the divine presence of Bhagavan on the New Year's Eve is available from the control below:

If the control does not work, click here
About Pooja Vaidyanath
More information about Pooja Vaidyanath goes here.
Chorus and Musicians
Chorus for the bhajans is from the voices Shashi Kiran, Siddharth, Parthasarathy, Gayatri Santosh, Gayatri Ravali, Pradeepti, Ravali, Sravanthi, Sushmita and Manojna. Music is composed by G.V. Prabhakar and Vedam chanting by the Vedam Youth of Shivam in Hyderabad. Recording, mixing and mastering is done by S.L. Studios by sound engineer Krishna.
Keyboard and Harmonium by Guru Prasad, Flute by Pramod, Sitar by Nandu, Violin by Ashok Gujrale, Guitar by Bhaskar, Tabla by A. Bhaskar, Ramakrishna, Sridhar and Mohan. Dolak and Percussions by Sridhar.
Requesting the CD
To request a CD, please fill out the following form and I will get back to you as soon as I can. Thanks.

If you already have the CD, I would certainly appreciate if you could write a review using the comments section below.