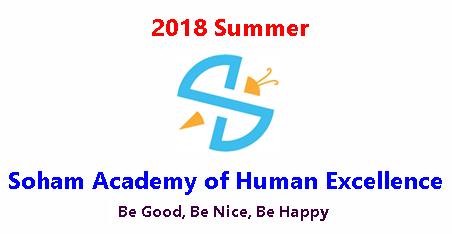 After we started Soham Academy of Human Excellence, the summer of 2018 turned out to be a very special one. There are many reasons for this. To understand why this is special and to set the context, we have to look at what we did in the summer of 2017.
Summer, 2017(April 15 to June 5, 2017):
It was very different. At that time I was working with my first batch of students and I was clearly not sure about how to engage my kids throughout the summer. I did not have an office and the only place I could go to meet my kids was to go their school. Honestly, I was also not sure about how many of my kids would be interested in a special summer camp. By the end of 2016-17 academic year, I worked with about 40 kids. They know me and I know them for little over 4 months. I started the summer camp under the pretext of teaching 10th mathematics. On the first day about 10 students came. Slowly it changed to 15 and then returned to 10 which turned out to be the average. Only 5 students attended these classes consistently. I did not teach them anything beyond mathematics. Most students were absent for most days because many of them wanted to visit their aunts and uncles in their hometowns. At the end of the session I rewarded all the students with one pen and a movie treat. It ended on a very sober note. I knew for sure that the summer that follows is going to be very different.
Summer, 2018 (April 3 to June 3, 2017)
The summer was gone for over a month and half. Whenever I think of it, it fills me with wonderful thoughts of some very fond memories. I thought I should pen down my thoughts lest these memories fade away permanently. I relive my memories whenever I read my own blog posts. Things, that I would have otherwise forgotten, flash back live whenever I read what I wrote months and years back. Hence this attempt to write down my experiences while they are still fresh in my memory.
About our office first. I started office hunting in Feb 2018 with the sole aim of making sure all my kids have a comfortable place to come and feel at home. I tell all my kids that we all belong to one large family. I really liked a couple of places that I could not get. But what I got in the end is a place that we all like. It is better than all the places that I eyed but could not get. I meet my kids at this place almost every day. It is a 2000 sq. ft office space with 6 rooms. One large room is big enough to hold 50 kids. We installed 10 computers with all their paraphernalia in two separate rooms. Each room hosts 5 systems. I kept one small room to myself to setup my own little office(It has everything I need except a beach view!). The kitchen was converted into a library. It has enough shelves to host over a thousand books!
It is this asset that we call our own home that helped us do many things. The primary excuse for me to host a summer camp still remained the same, 10th mathematics. There is not a single student or a parent who will ever refuse this bait! That promise was kept. For a majority of the time I was able to teach math. By the time we ended the summer camp we uncovered concepts from 7-8 chapters. The syllabus was not covered – it was uncovered! But what happened every day before and after a mandatory 90 minute math session altered our lives and etched more memories then the math class itself. More about it later.
In the 2017-18 academic year, I added another 50 students to my program. I already have 40 students from the previous year. So, by the time we started our summer camp we were dealing with about 90 students in our program. Our first batch of students who were about to start their 10+1 programme started learning about the use of computers. I made it mandatory for all my children to participate in the computer literacy programme. More about it later.
The second batch of students who are now in 10th standard were the key folks who got immensely benefited by our summer camp. On an average 30 children attended the camp every day, although a floating population of 40-45 students got benefited.
Starting with the house cleanup, they:
Drew rangoli in front of our gate almost every day
Drew pictures on one corner of our white board, again, almost every day
Learnt to perform yoga from Kum. Vignatha and Chi. Bharat, two 20+ yoga trainers, and even gave three wonderful performances at three different venues
Learnt drawing and art work from Kum. Preeti, a volunteer who is not only very talented with her work but is also passionate about teaching her skills to students
Attended psychology sessions conducted by Smt. Padma Trivikram
Started a reading program that introduced them to the works of RK Narayan, Ruskin Bond and Sudha Murthy
Watched three different movies at our own academy and enjoyed a movie outing (we watched Paramanu)
Started a literary club
Learnt( about 3 of them) how to chant vishNu sahasra naamam
Learnt(about 8 of them) how to sing three devotional songs from Kum. Bhargavi and even gave a public performance
Learnt certain basics of spoken English from Kum. Srivani, a young volunteer who is pursuing her MBA
Learnt how to complete a basic electric switch board with all the bells and whistles from two young volunteers from iFocus, Chi. Manideep and Chi. Uday. About 10 of them were able to recreate the switch board on their own
Went on some short tours to local attractions
Attended some wonderful events at iFocus
Hosted some wonderful guests from my past life (mostly from my college days)
… and finally enjoyed a nice valedictory last summer day
Looking back I am now very pleasantly surprised about how many things we were able to do achieve in a short span of 45 days. This past summer will remain forever etched in my memory and perhaps for many lives to come!
All this was possible because we decided to have a place of our own. Many thanks to my batch mates from 1991 MVSR Engineering College Civil C Batch. It is because of their moral support and financial commitment to my cause that I am able to take this forward.
Finally, here is a video that summarizes all we did this past summer!
P.S: I hope to write detailed posts about each of the above experiences.